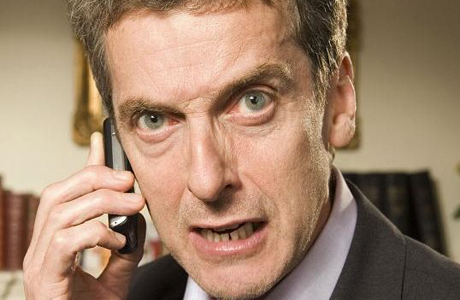 We had the pleasure of meeting Scotsman Peter Capaldi as the new Doctor in the 2013 Doctor Who Christmas special The Time of the Doctor. Let's get to know Mr. Capaldi a bit better with some of his earlier work, which we can view online:
1. The Thick of It
First things first, there is a lot of swearing in this series, so be careful if watching at work or around anyone for that matter. Capaldi plays a "spin doctor" by the name of Malcom Tucker, the U.K.'s government's Director of Communications, who keeps an eye on the the Minister for Social Affairs, Hugh Abbott (Chris Langham). While the show revolves around politics, it is indeed a comedy. The film In the Loop, also starring Capaldi, is based on the series and is also available online at Amazon Instant.
Watch The Thick of It on Hulu.com.
2. The Hour (Season 2)
Capaldi joins the cast of The Hour in the second season as Randall Brown, the newly appointed head of The News Hour, who is driven by his obsessive compulsive disorder. Please note, the below clip includes a spoiler.
Watch The Hour, Season 1 and Season 2, on Amazon.com Instant.
3.Torchwood (Season 3)
A spin-off from Doctor Who, the Torchwood Institute protects planet Earth from otherworldly threats. We meet Capaldi in season three, "Children of Earth", where he plays John Frobisher, liaison to the British government.
Watch Torchwood on iTunes.com.
4. Fortysomething
Capaldi and Hugh Laurie portray two doctors. Dr. Pilfrey and Dr. Slippery, who face middle age head on. The two are mates but competitive at times leaving Slippery's wife (Anna Chancellor) caught in the middle. Busy Benedict Cumberbatch plays Dr. Slippery's son Rory.
Watch Fortysomething on Amazon.com Instant.
5. Neverwhere
Neil Gaiman's story is set in what's called London Below versus the actual city of London, which is considered London Above. The residents of London Below are not visible to those who exist in London Above. Things get tricky when toggling between the two different cities. Capaldi plays the Angel Islington who acts as a guardian to London Below.
Watch Neverwhere on iTunes.com.
What's on your playlist? 
See More:
Who is Peter Capaldi?
Steven Moffat on Casting Peter Capaldi on 'Doctor Who' 
Brit Binge Watching: Five Dark Comedies Available Online
Read More
Filed Under: