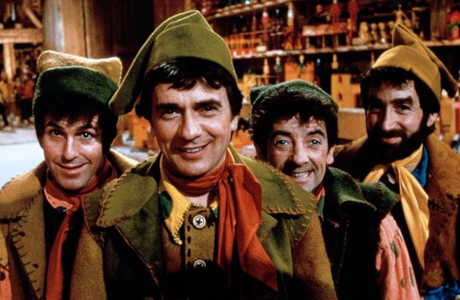 Do you find yourself singing Christmas songs to yourself these days, such as "It's beginning to look a lot like Christmas …" No? Well, you may need to kick it up a notch to get into the spirit and what better way than to have a marathon of holiday movies in the comfort of your own home. Here are five British Christmas classics streaming online to get you in the mood: 

1. Santa Claus: The Movie
We learn where Santa Claus got his start and then fastforward to modern day, meeting his head elf assistant Patch (Dudley Moore). Patch's work is less-than-stellar and he resigns from his position, making his way to NYC to look for work.
Watch Santa Claus: The Movie on Amazon Instant.
2. "Blackadder's Christmas Carol"
BBC's period series Blackadder, starring Rowan Atkinson (Mr. Bean), received a one-off made-for-TV Christmas special, adapting Charles Dickens' classic story of Ebenezer Scrooge who learns the meaning of Christmas after being visited by the ghosts of Christmas past, present and future.
Watch Blackadder's Christmas Carol on Amazon Instant.
3. Love Actually
We follow ten separate stories, illustrating the complexities (and sometimes simplicities) of falling in love while keeping up with the pace of the holiday season. This ensemble cast includes familiar faces like Hugh Grant, Colin Firth, Emma Thompson, Alan Rickman, Keira Knightley and Andrew Lincoln.
Watch Love Actually on Amazon Instant.
4. Bridget Jones's Diary
Half-mad and unpredictable book publicist Bridget Jones (Renée Zellweger) falls in and out of love, trying to keep her head on straight as the days lead up to Christmas and the foreboding New Year.
Watch Bridget Jones's Diary on iTunes.
5. Scrooge 
Seymour Hicks gets his scrooge on in the 1935 telling of Dickens' A Christmas Carol in Victorian England.
Watch Scrooge on Amazon Instant. 
Which movie are you going to watch first? 
See More:
New 'Sherlock' Mini-Episode Due on Christmas Day
Snapshot: 21 Photos of U.K. Christmas Lights
A Traditional English Christmas Dinner in a Can
Read More