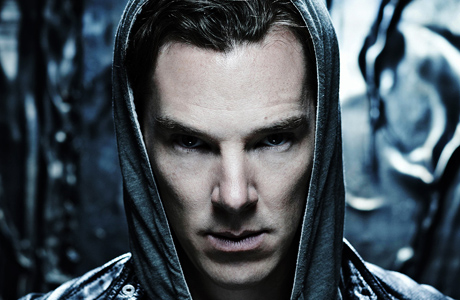 It must be interesting being Benedict Cumberbatch right now. Acclaimed worldwide for his performances as both the rude and chippy Sherlock Holmes and the unpleasant and evil John Harrison in Star Trek Into Darkness, he's fast becoming the go-to guy for that kind of brittle British baddy that everyone secretly roots for.
However, he's taking great pains, in a new interview with GQ magazine, to point out that there is more to his range than just sneering and scowling:
"I know that everything I do now will have flavours of Sherlock. Everyone wants those dark, complicated antiheroes, and of course I play then. But I also play Charles in August: Osage County, Ford in 12 Years A Slave and Alexander in Stuart: A Life Backwards – he's a pretty open book; smart man though he is, the complexity is all about Stuart. Alexander's an everyman; he's not super-sleuthing or cracking code or breaking algorithms. I mix it up."
And it's this mis-reading of his character, based on his work, that partly interferes with his love life. Especially when it comes to meeting women:
"It is harder, because people think they know more about you than they actually do.
"And you can't control that… you can't control perceptions of you."
Even women in the public eye, women who should appreciate the distorting lens through which all fame is viewed, sometimes come at him with preconceived ideas. Like Madonna, for example:
"She said, "You're the one with the strange name"
"I said, 'Yes, I am, Madonna.'"
And then there are the people who call him out for being well-to-do:
"All the posh-baiting that goes on… it's so predictable, so domestic, so dumb.
"I'm an upper middle-class kid. I know that's counted as posh, but then I know people who I would call posh, and I don't talk like them"
And he has scant regard for anyone who says he should be worried about the failure of The Fifth Estate to break box office records. The WikiLeaks movie, in which he played Julian Assange, was not rapturously received, but as far as he is concerned, it's a gateway to other roles, despite the critics:
"Water off a duck's back. I'm just thankful that it has positioned me as someone who is capable of doing that kind of role. And whether the film has a big box office or not, the response to how I have performed has done me huge favours. You know, it's the first lead role I've had, and it's caused this much attention."
And he wasn't exactly short of attention in the first place.
See more:
Now THIS Is How You Announce A Comeback! #SherlockLives
How Tom Hanks Made Benedict Cumberbatch A Star
WATCH: New 'Sherlock' Teaser Trailer – #Sherlocklives
Benedict Cumberbatch Auditioned with Selfie Video
Read More
Filed Under: