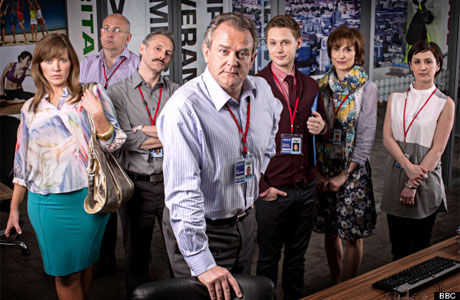 Amid all the brilliant, puffed-up office nonsense and garbled media language, the faint sadness (and abiding strength) of the BBC comedy Twenty Twelve was always that it was set in a short term event. No matter how successfully realised the idea, there was never a chance to keep it going, because it was all about the run-up to the London Olympics, and they have been and gone now.
So, it's with double delight that we discover that the team behind the BAFTA-winning comedy have been commissioned to write a new series, using some of the same characters, and it will be based in another organisation that is prone to occasional swerves into spiralling internal nonsense politics, while working as hard as it can to deliver the best possible outcome for its audience: the BBC.
W1A (named after the London postcode that is home to BBC Broadcasting House) is a six-part series that been written and will be directed by John Morton, with filming starting next month. Hugh Bonneville is back as the stressed executive Ian Fletcher, former head of the Olympic Deliverance Commission, who has accepted the offer of becoming the BBC's new Head of Values (note: not a real job). His role will be to prepare the corporation to negotiate a new Licence Fee in 2016, and a renewal of the BBC Charter in 2017 (note: real situations).
Shaking down a fusty old institution (even one that makes Doctor Who) is no picnic, and, according to the production team, "His task is to clarify, define, or re-define the core purpose of the BBC across all its functions and to position it confidently for the future. Reith was then; this is now. The post is sold to Ian as a chance to influence and shape one of the great British institutions."
"His job is to think Big Thoughts, but it doesn't him take long to realise that not only does he not have time to think Big Thoughts, he never has time to think any thoughts at all."
Jessica Hynes is also back, as the permanently jargon-addled (and sweary) PR guru-ette Siobhan Sharpe:
John Morton is quick to play down the idea that this is in any way supposed to be a swipe at real people doing real jobs in the Beeb: "It isn't a demolition job on anybody or anything, and it isn't one giant in-joke, and this isn't a game of guessing who is supposed to be who. If it is satirical then it's satirical about an environment, an ethos, and the absurdities of modern corporate life itself. The key principle is to operate at a level of reality just to the left or the right of fact, to create stories that haven't actually happened but that could happen or might have happened."
But then, some of the real people that work at the BBC have also offered their thoughts, as if to prove that, if there is a joke to be in on, they most definitely are.
It starts with this relatively straightforward, encouraging quote from Janice Hadlow, Controller of BBC Two: "Twenty Twelve was one of BBC Two's stand out comedy hits last year and I'm absolutely thrilled that John Morton and the fantastic off-screen team are coming together again as well as some of our most loved characters from the first series."
Then Mark Freeland, Head of BBC In-house Comedy, added: "This is a kind of love letter to the BBC. But a letter that gets mislaid, because the remote computer system is not working and is stuck in a blue sky brainstorming session in a meeting room that's been double booked and anyway, the bean bags have gone missing."
And finally, proving that a good gag can go all the way to the top, a spokesperson for Tony Hall, the BBC's Director-General, is quoted as saying: "In a divergent, 360 degrees, flexi-content, on-demand marketplace, this is just the kind of connected proposition that the BBC is prioritising… what is it..??"
But that one could just be made up…
See more:
Five Reasons Why 'Twenty Twelve' is a Classic British Comedy
Summer of London: 'Downton' Star Hugh Bonneville on His BBC America Comedy, 'Twenty Twelve'
'Broadchurch': The Evolution of Olivia Colman
Five Ways Britain Changed After The London Olympics
Read More
Filed Under: