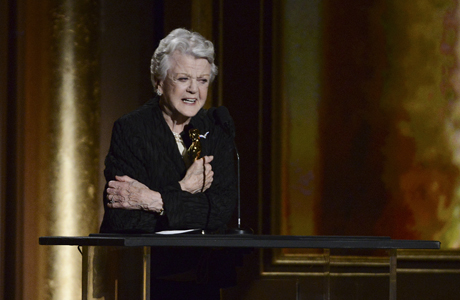 We don't know if the two are tied together but we find it interesting that Angela Lansbury recently landed in the news, expressing her disappointment for the NBC Murder, She Wrote reboot, and is now starring in a play in London. It may just be a coincidence, but we like it.
There have been talks of a remake of Murder, She Wrote, which originally starred Lansbury from 1984 to 1996. Lansbury hasn't been shy to say she isn't too keen on the idea, saying, "It's a mistake to call it Murder, She Wrote" according to The Hollywood Reporter.
As the seasoned actress knows, she can speak her mind but it won't necessarily change anything with her saying, "I'm sorry that they have to use the title Murder, She Wrote, even though they have access to it and it's their right."
But, what she can do, is do what she does best, and get up on that stage and perform. At 88, Lansbury is ready to knock the socks off of the West End, making her return to the London stage for the first time in almost 40 years, appearing in Noel Coward's Blithe Spirit, reports BBC News.
Blithe Spirit revolves around a happily married couple living in the English countryside, who sit in on a séance and the husband finds himself with two wives … one more in spirit. Lansbury originally took on the role of the clairvoyant Madame Arcati in 2009, which she won a Tony Award for her Broadway performance. You can take a peek at her in character here.
When asked about returning to the labor-intensive schedule, Lansbury told The Daily Mail, "I hope to God I can still fly around at the same rate!"
The production will open to the public on March 18, 2014, at the Gielgud Theatre, Shaftesbury Ave., and run for a limited 15 weeks.
Speaking of coincidences, we just highlighted the film adaptation of Blithe Spirit in this past week's Brit Binge post on "Dark Comedies", which you can watch online here.
Are you happy to hear Angela Lansbury is returning to the stage?
See More:
Brit Binge Watching: Five Dark Comedies You Can View Online
"Americans Perfectly Capable of Understanding Irony," Says British Director
Two Brits Debate: Are Americans Sarcasm-Literate?
Read More
Filed Under: