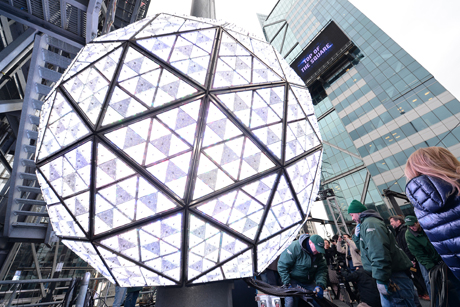 On the surface, American New Year traditions might appear to present fewer pratfalls to the British expat than, say, those of Christmas Day. After all, a good portion of New Year customs, such as the obligatory countdown, the clinking of glasses and the televised fireworks displays, are fairly universal. However, there are a fair few differences as well.
First, there's the time difference; Americans chime in the New Year some several hours after the citizens of Great Britain and, with the United States operating on six separate time zones, Brits often have trouble communicating with their families back home on the stroke of midnight. Note: In popular expat destinations such as New York (ET) and Chicago (CT), there is a difference of five and six hours respectively. On the West Coast, midnight falls at 8am UK time, while Alaska and Hawaii are nine and ten hours behind.
On the subject of America's west coast, and more specifically California, American New Year is also known – like many American holidays – for its parade. The Rose Bowl Parade, which takes place in Pasadena, is a bombastic festival in which flower-covered floats, horses and marching bands tour their way through the city's main thoroughfare. Unlike London's New Years Day Parade, it is a relatively popular televised event, with many of the major TV networks airing it across the nation.
And if the Rose Bowl Parade is the television event of New Year morning, then Dick Clark's New Years Rockin' Eve is definitely its New Years Eve counterpart. The show, created and once hosted by the late Dick Clark, is America's go-to New Year show. Hosted nowadays by US presenter Ryan Seacrest, it features a line-up of popular recording artists performing live from Times Square and Hollywood.
Indeed, Times Square is also the iconic setting for what is known in the United States as the "Ball drop", in which a Waterford crystal ball descends from atop One Times Square, reaching its destination on the stroke of midnight. In this regard, it is perhaps America's equivalent of Big Ben's midnight chime, which famously heralds the arrival of the New Year with a series of gongs.
In parts of America, another sound ringing in the New Year – depending on where you live – might be that of rifles firing into the air. And these are not the rifles of marching bands or military personnel, but local residents. Of course, the practice of shooting skyward, with all its inherent dangers, is one that is outlawed in many parts of America – including, it seems, Los Angeles.
In the moments (and indeed days) following New Year celebrations, it is customary in the United States – just as it is in Britain – to wish people well in the New Year. But America wouldn't be America without offering a slight variation on the familiar phrase "happy New Year!". After all, it is fashionable in the states to conclude this phrase with a possessive 's' – as in "happy New Year's" – presumably as a shortening of "happy New Year's day!"
Whichever way it is said, however, many Americans – particularly in the south – believe that your chances of having a good New Year are improved dramatically by eating black-eyed peas and greens. It is thought that this practice – similar to the Jewish New Year tradition of centuries past – was brought to the south by Sephardic Jewish immigrants in the early 1700s. Many consider the consumption of black-eyed peas and greens to suggest humility, ahead of a year of wealth and good fortune (hence "green") – lending itself to the phrase "Eat poor on New Year's, and eat fat the rest of the year."
Speaking of food, a New Year's resolution common to both countries is dieting, with fitness and weight loss factoring into many people's annual goals. But more on that soon.
What are your plans to ring in the New Year? 
See More: 
10 Things to Look Forward to in 2014
10 Ways to Ring in the New Year
British Up Your New Year's Toasts
Read More