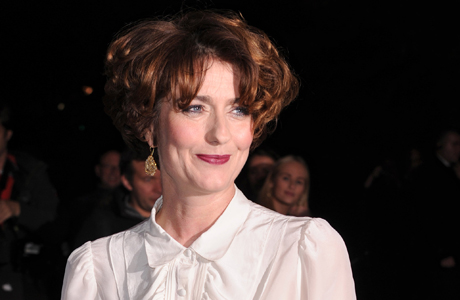 Anna Chancellor is on the phone and she's chuckling. "You'd laugh so much if you could see where I'm calling you from," the British actress says. "I'm in the middle of a market in a small town in Algeria near Morocco. We've come to buy a carpet." (Her husband, Redha Debbah, a computer technician, is originally from Algeria.)
The star of Four Weddings and a Funeral and BBC America's The Hour was on the line to promote the one-night only showing in U.S. movie theaters this Wednesday (Dec. 11) of Private Lives. Moviegoers will get to see a filmed performance of the London stage production of Noel Coward's comedy in which Chancellor and Toby Stephens starred earlier this year to rave reviews. (For a list of theaters where it will be showing and to buy tickets, click here.)
Chancellor and Stephens are only the latest in a long line of well-known British stage luminaries drawn to the classic roles of Amanda and Elyot in Private Lives. The two characters are a divorced, upper-class English couple who, despite having each recently remarried others, ditch their new spouses to run off together to Paris, where their epic bickering threatens their rekindled romance.
Here are Chancellor and Stephens in the scene where the exes first discover–quelle horreur!–that they're in adjacent hotel rooms:
Written by Coward in 1930, Private Lives has lit up West End stages over the years with notable productions starring Maggie Smith and then husband Robert Stephens (Toby Stephens is their son), Lindsay Duncan and Alan Rickman and, three years ago, Kim Cattrall and Matthew Macfadyen. (BBC America's recent TV movie, Burton and Taylor, chronicled the tumult that surrounded Richard Burton and Elizabeth Taylor when the twice married and twice divorced couple reunited to star in a Broadway revival of Private Lives in 1983.)
So how many times had Chancellor seen Private Lives before starring in the play? "Never," she admits. "I hadn't even read it."
That meant that she brought fresh eyes to the production, which was directed by Jonathan Kent and opened originally in 2012 in Chichester and then was remounted in London last summer. Her take on Amanda was that, underneath all the joking and bluster, this soignée figure is a very lonely woman. "I think it's very like Noel Coward's own life," she says. "There's all the glamour and success but ultimately he was a very lonely person. He probably found relationships too hard."
One of the high points of this production and of Chancellor's performance comes when Amanda, angry with Elyot, loudly plays a recording of Igor Stravinsky's The Rites of Spring and launches into an almost atavistic, wild dance. The more Elyot fumes and begs her to stop, the fiercer her dancing becomes. "It showed the anarchy within Amanda," Chancellor says. "It was brilliant fun to do. Sometimes I'd hear the audience, especially a woman, just shrieking with laughter. It's the sort of thing men really hate women doing, isn't it, dancing madly? It would really drive a man crazy."
She says that she and Stephens, who hadn't worked together before, were lucky in that they developed an instant on-stage rapport. "It made our working relationship absolutely wonderful," she says. "Many Amanda and Elyots have problems over who gets more love from the audience and they will compete for laughs, but we never did."
Stephens's mother, aka Dame Maggie, came to see the show twice. "The first time was so absolutely terrifying that I said to Toby, 'Don't tell me when your Mum's here.' The second time, I overheard him telling a dresser, 'The Old Lady is in,' and I thought, I can't bear it. But she was wonderful when I met her and she sent beautiful flowers. She couldn't have been nicer and I couldn't admire her more. It was wonderful for me to have her support."
The performance that will screen in U.S. movie theaters on Wednesday is actually an amalgam. "They filmed three separate performances the last week we did the show [in September] and then edited them together," she says. "I haven't seen it yet and I'm slightly dreading it." (U.K. cinemagoers have to wait until Feb. 6 to see Private Lives on screen.)
Which of her many roles is Chancellor most recognized for? "Without a doubt, Pride and Prejudice," she says, referring to the 1995 BBC miniseries in which she played Caroline Bingley with costars Colin Firth and Jennifer Ehle. "A close second is The Hour. So many people would wait outside the theater after Private Lives and stop me and say they were so sad that [BBC] cancelled the show." (The Hour, a series about the personal and professional lives of journalists working at a fictional 1950s TV news show, was cancelled last year after two seasons.)
Fans of The Hour will be amused to know that when one of the show's producers visited Chancellor backstage after seeing Private Lives, the actress burbled about how much she had adored the raincoat that her character, Lix Storm, wore in the series. The next day, the producer sent Chancellor the coat. "The minute I got it I waited for it to rain every day," she says.
Of her many film roles, which include appearances in Hysteria, St. Trinian's and The Hitchhiker's Guide to the Galaxy, Chancellor says she's still best known for playing the jilted fiancé who is nicknamed "Duckface" by Hugh Grant's character in Four Weddings and a Funeral (1994).
"I will always be Duckface. Always," she says.
"It'll on my grave. Some people just call me Ducky. I don't mind."
With that, Chancellor had to ring off so that she could get back to her husband and their carpet-buying quest. How was she planning to get the rug back to their home in London? She laughed. "We still haven't figured that out. They're quite heavy, you know."
Below, Chancellor and Stephens discuss the play and their performances on BBC's The Andrew Marr Show last summer. The clip includes footage of Stephens' parents performing the comedy back in 1973:
Do you hope to see Anna Chancellor and Toby Stephens in Private Lives?
See More:
Where Else Have You Spotted the Cast of 'The Hour'?
British Weddings, Not Necessarily Royal
Five Curiously Neat Theatrical Double-Headers
Read More
Filed Under: