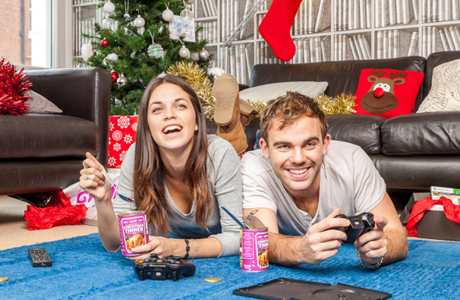 People get overexcited on Christmas day and find it hard to tear themselves away from their new toys, even if it's to join their family at the dinner table. The people over at the U.K. retailer called GAME have come up with a solution to balancing out game-playing and eating.
Drum roll pleaaaase … Christmas Tinner. Yup, Christmas in a tin can. You can lay on your belly, playing away, with fork in hand and make your way through: Scrambled eggs and bacon for breakfast; then two mince pies as appetizers; warming up your belly for the main course of turkey and potatoes with gravy, bread sauce and cranberry sauce; it wouldn't be a British Christmas without brussels sprouts and parsnips; and, to finish it off, Christmas pudding.
Is your mouth watering? Are you thinking to yourself, I can't picture ALL of this Christmas goodness in one place, let alone one can? Well, there's no need to imagine this wonderfulness because we have a delectable photo below: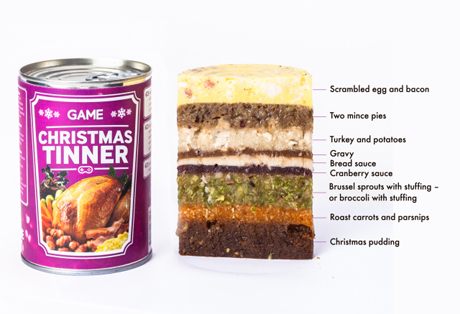 Did you just hit your fork on your computer because it looks just that good?
Okay, okay, we jest. We realize this image is not all that enticing (possibly a little repulsive) and we get the feeling it's not actually real. Insert sad face.
The Museum of Hoaxes points out that the product is currently listed as "Sold Out" and it's been sold out for a while. So, possibly it was never really for sale. It did get a shout-out on Saturday Night Live, so maybe, GAME should give it a whirl. We're not sure what the FDA-equivalent in the U.K. would think about this though?
Do you want this to be real? 
See More:
5 British Holiday Foods Every American Should Try
Anatomy of a British Christmas Dinner
Snapshot: 21 Photos of U.K. Christmas Lights
Read More
Filed Under: