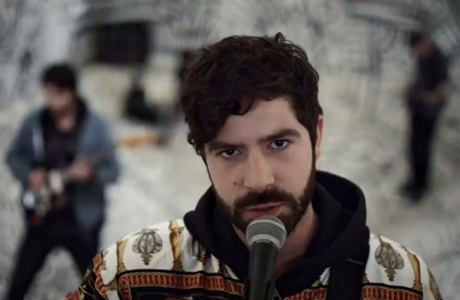 The best year in ages for British music? It sure seems that way. Adele's general absence (outside of her Oscar win) from stages and radio stations may have taken focus off the U.K. recording industry on this side of the Pond in 2013. But a great diversity has taken root in Britain, with young artists and veterans alike creating compelling, fun music in a variety of genres. Compiling the year in British music into a manageable list meant some very good ones have been left off.
20. "A Ton of Love" by Editors
An almost guilty pleasure. Yes, it indeed conjures up memories of Echo and the Bunnymen's "The Cutter," with lead singer Tom Smith's baritone echoing Ian McCulloch's desperate wail. But for a song that so proudly, shamelessly brandishes its influences, it feels incredibly immediate. A rush.
19. "You (Ha Ha Ha)" by Charli XCX
Charli XCX, an attitudinal goth 21-year-old who makes giddily weird pop songs, showed chutzpah with this break-up track, using Gold Panda's "You," a masterpiece, as raw materials. She took the repetitive chipmunk-y samples from the original and making them sound even more urgent and accusatory. "You, you lied," she sings in the chorus, before tossing off a laugh and adding, "I was right all along. Good job – you f***d it up." A beast of a song from a bold, singular artist long past her "prodigy" phase. Lorde should be jotting down notes.
18. "Fireflies" by Still Corners
Goldfrapp released an album this year—a damn good one. But while the songs on that veteran band's record didn't quite pop as much as wash over you, another British duo, Still Corners created this woozy, teasing, almost hallucinatory tune in the old Goldfrapp style. It pops and lingers.
17. "Master Hunter" by Laura Marling
In which the idea that folk music is about courtly love, people meeting at dawn to hold hands in the springtime dew, is given a swift kick in the knackers. There may be more traditional whispered confessions on Laura Marling's albums, but she's at her best when acting the cold sexual predator, swearily pouring scorn on your measly bunch of flowers and offer of a date with her punishing guitar, while, in the shadows, someone treats a drum kit with abominable rudeness.
16. "If You Still Want Me" by Veronica Falls
With their male-female harmonies and often chirpy songs, this London-based quartet has been called "twee," meaning "cutesy" or quaint, and it's a label seen as deeply derogatory. It's also off the mark in this case. With unimpeachable musicianship, "If You Still Want Me" drives, stacking a Belle & Sebastian-esque melody on top of a danceable New Order-influenced rhythm section. Dismiss them at your own peril.
15. "Signal 30" by Public Service Broadcasting
It's a really simple concept. Take a bunch of public information films, safety warnings and documentaries from the earlier parts of the 20th century, and use them as the lead singer on your album of sparky instrumentals. No need to feed your any inflated egos or hunt around for jars of honey and fresh lemons come showtime, just cue up the one about the guys who drive too fast and stamp on all of your pedals at once.
14. "Love is a Bourgeois Construct" by Pet Shop Boys
Simply the most Pet Shop Boys song there could ever be. A synthesized classical motif and a wry lyric about sociology tooled up for the dancefloor and delivered with a stoney-face. You just know there's a torrent of pummeling emotion in there somewhere, and there are palpable gags, but Neil and Chris are not about to let their poise slip without a fight.
13. "Flatline" by Mutya Keisha Siobhan
Arriving in a huge cloud of unfinished business, the original three members of the Sugababes put their bickering behind them and starting making music once again. And if that music seems somehow smaller than the fact that they're all standing in a line, well that's just the nature of celebrity: the myth is bigger than the reality. Nevertheless, "Flatline" deserves the attention, because even without the back-story it's a classy pop song delivered by three distinct voices that compliment each other perfectly.
12. "Inhaler" by Foals
Just when you think you've gotten Foals tagged and tailed, they go and take an exit ramp for a brand-new path, sometimes within a single album. Their latest, 2013's Holy Fire, is no exception. While the cheeky, danceable "My Number" reminds us of the Talking Heads-influenced funk for which they'd become famous, "Inhaler" is an exercise in dynamics, with its quiet, lilting groove in the verses and then BAM—a Zeppelin-in-the-Thunderdome riff that will liquefy your innards. (Note: the video below is NSFW.)
11. "Melody Calling" by The Vaccines
It's bizarre to think that the same lads who made the garage-y, plaintive "Post Break-Up Sex" also composed this easy, swooning tune that would not have felt out of place between America and The Guess Who on rock stations in the '70s. It's a hardly a surprise that the Vaccines recorded this in L.A., as this is a song meant to be played loud and proud from the stereo of a top-down convertible. Not very British, mind you, but in this case, that's an asset.
10. "5am" by Katy B
Rihanna has a new next-door neighbor on the seamy side of the pop metropolis. Every aspect of "5am"—from the pounding, throbbing beats to Katy B's stark lyrics ("I need a lover like Valium…someone to knock me out")— paints a spot-on portrait of the familiar club-kid experience—dancing the night away at a disco alone, booze-weary but wired from adrenaline and other assorted things, searching for solace in the nearest pretty face as the festivities wind down.
9. "Best Song Ever" by One Direction
People who revere old rock classics can be incredibly tiresome, can they not? Here's a modern pop song that has no reason to tip a nod towards "Baba O'Riley" by the Who whatsoever; it won't guarantee extra sales, it won't impress One Direction fans and it won't win any credibility among the serious rock press, and yet it takes on that sinuous, bolshy beat and forges a new song out of it. It's a great, daft, uplifting pop song, that seeks to do nothing more than brighten the day of anyone who hears it. It's not worryingly sexual, it's not sappy and needlessly buffed-up for the rock arena, and it will almost definitely stick around more pleasingly than most well-respected indie nonsense of the moment.
8. "Do I Wanna Know?" by Arctic Monkeys
In which the libido of Britain's finest songwriter finally reaches full tumescence, forcing him to unzip and unleash an entire album of erotically charged peacock rock. "Do I Wanna Know" contains the usual vinegary lyricism and glass-eyed critique, but lovingly carried aloft by the kind of guitar riffs that could pop a belt open at 100 paces. It's as if Alex Turner intends to first probe you, and then ravish you, and then saunter off home, whistling as he goes.
7. "Strong" by London Grammar
Music made from reverberant noises is so very nowadaysy, it takes real talent to stand out from the boom-and-whoosh pack, and London Grammar are doubly blessed. First with the swollen clarinet voice of singer Hannah Reid, and second with some beautifully pained songs about love gone bad, like this one. Frankly, if I were the XX, I'd be checking my mojo cabinet to see if it's still there.
6. "Lies" by Chvrches
The '80s have been a constant reference point for the last few years of hipster music, and the SEO-friendly Chvrches have done well from this. What they deliver is fine old British fire 'n ice electropop, of the kind that once upon a time gave us Soft Cell, Yazoo and the Human League. Their beats are as clunky as they are funky, and their melodies are more sour than they are sweet. But there's a strong and bloody heart amid the diodes and circuits, giving their tunes equal sparks of power and life.
5. "That's Alright" by Laura Mvula
Boiled down to essentials, the way you get to be Laura Mvula is to take a voice with the sour stridency and authority of Nina Simone and support it with Beach Boys harmonies. Then write a bunch of songs that build an earthy rhythmic base and then somehow stop and shoot upwards, into the sky. You'll want to keep your audience guessing as to when this will happen, and you'll want to aurally dazzle them when it does. Try and make your lyrics a little bit socially conscious and a little bit dreamy and congratulations, you are most of the way there.
4. "The Red Wing" by F*** Buttons
The British duo with the NSFW moniker have been putting out 10-minute instrumental epics for years now, the best of which ("Olympians," for example) command rapt attention for their full duration. There's a 3-minute edit for "The Red Wing" on the web, but it's worth seeking out the dramatic eight-minute full-length, which layers bowel-shaking bass fuzz and noise on a persistent hip-hop clatter of beats.
3. "À tout à l'heure" by Bibio
Speaking of "twee," the random use of French in an otherwise English language pop song is almost a guarantee of "tweedom." (Unless you're Patti LaBelle asking someone to go to bed with you.) But we didn't see that label leveled at "À tout à l'heure," a breezy summer ditty from U.K. producer Stephen Wilkinson; it's quite simply far too infectious. With its lyrics about counting numbers and melodies; arms spinning and merry-go-rounds and buttercups—it expresses child-like feelings of freedom that we can all tap into. If there is any justice, this would sit alongside "Get Lucky" and "Blurred Lines" on any wedding DJ's playlists.
2. "Where Are We Now?" by David Bowie
There are many great songs on David Bowie's comeback album The Next Day, but this was the first anyone had heard, and it deliberately played tricks with expectations. Mocking his own elder statesman status by singing as if frailer than he really is, Bowie dropped knowing references to his time in Berlin, and appeared to be looking back on past triumphs like a grandfather turning pages on a yellowed photo album, then broke into a chorus of yearning and loss that left most people assuming his comeback album would also be his last, while still recovering from the fact that it existed at all. And the video, in which Bowie plays one half of a two-headed teddy bear, did little to allay the shock.
1. "Retrograde" by James Blake
Yes, "The Wilhelm Scream" was riveting, but few of us here at Anglophenia highly rated James Blake's early, repetitive DJ experiments. (His soulful take on Feist's "Limit To Your Love" was a welcome invasion of songcraft into his last EP, hinting at a new direction in his career.) So imagine our delight at Overgrown, a brilliant collection of R&B tracks that has netted him a Mercury Prize and a Grammy nomination for Best New Artist in the past year.
The accolades are deserved, but the album's true astonishment is "Retrograde," the lead single. A wispy, boyish 25-year-old, Blake doesn't look the part of a sexed-up soul man in concert, and sure, on record, his voice cracks when he first sings the lyrics "Be the girl you loved." But when he drops to the low register on the line "We're alone now," it's the musical moment of 2013, one that articulates volumes of sexual possibilities and Blake's own communion with legendary R&B lover men like, Luther Vandross and, well, Barry White.
The verses build to an angst-ridden payoff in the chorus. "Suddenly, I'm hit," he sings. "Is this darkness or the dawn?" Like the best R&B "quiet storm" tracks, "Retrograde" is a song as much about sex and intimacy as about the singer wrestling with his own anguish, and that tension lends the track a depth and mystery that has kept us revisiting it throughout the year.
See more:
Top 10 U.K. Viral Videos of 2013: Celebrities Letting Loose
10 Greatest British Songs of 2012
Read More
Filed Under: