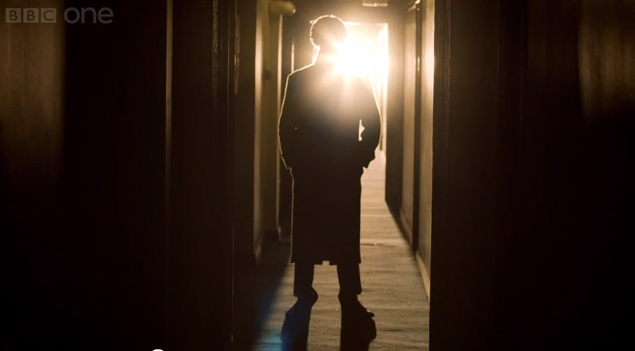 2013 was a pretty good year to be interested in British culture, was it not? Doctor Who fans in particular had more than enough to keep them occupied, with some enormously high profile entrances and exits, a 50th anniversary special and a dramatization of the show's earliest days to boot. And David Bowie came back from the dead, and Benedict Cumberbatch did all of the acting, so that everyone else could have a rest.
So, before we get started on a new year, what delights should we be looking forward to once the Christmas decorations have all been tidied away?
1. Sherlock
This one won't even require a lot of pining, that is just SO 2013. On January 19, Sherlock returns to PBS and we finally get to find out how the hell he managed to survive falling off that building (if indeed that is what he did). And we get to see John Watson's reaction when he discovers his old friend has agreed to his most fervent wish, and has arisen from the dead. You think he'll be pleased? Overcome with delight? No, neither do we.
And speaking of Martin Freeman…
2. The Hobbit: There And Back Again
Currently the release date for the final part of Peter Jackson's embiggification of the Hobbit is December 17, 2014, but shooting finished earlier this year, so news of exciting projects starring Martin Freeman, Sir Ian McKellen, Benedict Cumberbatch and all manner of related British thespian talents will flood the year. We may not get to see all of them before the year is out, but they'll be there, ready and waiting nonetheless. Oh and we get to find out what happened to Bilbo and the ring.
3. What Matt Smith Did Next
Having only just said goodbye to Matt as the Doctor in Doctor Who, he's already working hard on other projects. There's the musical of American Psycho, in London's Almeida Theatre. And there's a possibility that this will transfer to Broadway at some point. Then there's the movie How To Catch A Monster, Ryan Gosling's directorial debut, filmed in 2013, that required Matt to shave off his floppy hair. Clearly there will be plenty more to come and we will endeavor to track down whatever it is, and bring it here.
4. Tom Hiddleston in Coriolanus
His run in William Shakespeare's dark and political thriller (for that is what it is) may have already started, but the National Theatre Live broadcast happens from January 30, in theaters worldwide. And if Tom himself isn't a big enough draw for Anglophenians, you may like to know his co-star is Sherlock's Mark Gatiss.
5. "23?" "24?" "25?"
All we know is this: we are due a new album from Adele, and she is working on new material. Some famous producers have been linked with the project, including her old mucker Paul Epworth, Kid Harpoon, James Ford, William Orbit and Ryan Tedder. Whether this results in a new studio album within the next 12 months is anyone's guess—she has stated she will only release a record when she has something to write about, and motherhood may prove a less fertile subject matter than heartbreak—but the anticipation is rising. And to partially satiate that, you might want to keep an eye out for Wiz Khalifa's next album "Blacc Hollywood," as she is set to make a guest appearance there.
6. Broadchurch, Season 2 and Gracepoint
Well, with the Season 1 Whodunit? answered, now we have two equally tantalizing questions in mind. No. 1: How do you top that season? No. 2: how do you recreate this achievement … in America?
Broadchurch's first British series appeared remarkably self-contained: it told the story of a town rocked by the murder of a young boy, plumbed through the suspects, and resolved the mystery instead of dragging it out for season upon season. But instead of concluding the story, we're moving forward with a second season and a group of characters who must re-build their emotionally devastated relationships. The astonishing Olivia Colman has confirmed her involvement in a follow-up season, but there's no word on her on-screen partner David Tennant, who has signed on to the Fox's U.S. limited series remake Gracepoint. Broadchuch's British creator Chris Chibnall will write Gracepoint's first episode, an amazing international ensemble will co-star alongside Tennant, including Breaking Bad Emmy winner Anna Gunn, two-time Oscar nominee Jacki Weaver, three-time Oscar nominee Nick Nolte, Transamerica's Kevin Zegers, and others. (Tennant says he's perfecting his U.S. accent with a voice coach via Skype.)
7. 50 Shades of Grey
We know people claim they haven't read E.L. James' erotic novel but someone is with over 90 million copies sold worldwide. People have been cringing at the thought of it being made into a film but at the same time, we know you're curious. As are we. The film making process had some hurdles in 2013 with the first choice lead actor Charlie Hunnam dropping out at the last minute. But, the role of Christian Grey was soon filled with BBC2's The Fall's Jamie Dornan. Dornan was just voted Breakthrough Actor of 2013, according to RadioTimes.com. We did a short post when the first snaps of Dornan and Dakota Johnson came out as their respective characters, Grey and Anastasia Steele, and while not a lot of people "liked" the post, thousands did take a look. We're on the edge of our seat to see what comes of the film. Even James herself is "terrified" when discussing production, as she elaborates here.
8. World Cup
The World Cup, the cup of all cups, will be making its return in 2014, taking place in Rio De Janeiro, Brazil during the summer, June 14-July 14. The match schedule has been set and it can be found here, outlining the 64 matches to be played in the "carnival of football." And who is playing on the first day, Saturday, June 14, you ask? Oh yeah, that's right, England. The national team will be up against Italy. Even if you're not a huge soccer fan year round, the World Cup is such an international affair, it's so much fun to take part in. If you find a local soccer bar in your area, no matter the team you're cheering for, it's a friendly sport and everyone is welcome. FIFA's World Cup comes around every four years and something not to be missed out on. If you're looking for a spot to watch the matches, this series on British things in U.S. cities may help you find a "local".
9. Damian Lewis (Spoiler Alert)
If you've been tuning into Showtime's Homeland (spoiler alert, please stop reading if you haven't seen the second season's finale) then you know what's come of Damian Lewis' character Nicholas Brody. We won't describe it in full detail here, just to be safe, but the short story is … he won't be making it back for the third season. Some people may be mourning the loss but that's so 2013. It's time to get it together and move on. What's to come in 2014? Lewis has already completed the romantic drama The Silent Storm, which is set in a remote village in Scotland. Lewis stars opposite English actress Andrea Riseborough (Welcome to the Punch). It'll be refreshing to see Damian get all romantical after having such a rough time of it in Homeland. Lewis is one of the most sought after actors, so yeah, we expect he'll be starring in movies, or sign on for another TV series. But even better yet, maybe he'll pop up in an unexpected commercial like this one or … gasp … a DIY YouTube clip, topped up with singing and dancing or some sort of impersonation. Fingers crossed.
10. Downton Abbey
Time waits for no one, especially not the aristocratic Crawleys. When Downton Abbey returns for its fourth season on PBS' Masterpiece, beginning this Sunday (Jan. 5) at 9 p.m., the popular series will start six months after the tragic death of Matthew Crawley (Dan Stevens), which left fans reeling at the end of last year's finale. Lady Mary (Michelle Dockery) is now a widow with an infant son and she and the rest of the family, along with the loyal downstairs staff, will be coping with that loss along with the huge social changes affecting England during the 1920s. Our fondest hope for this season: that the Dowager Countess (Maggie Smith) will learn to Charleston.
Do you have any additions to the list?
See More: 
10 Ways to Ring in the New Year
British Up Your New Year's Toasts
'The Chimes': Charles Dickens' New Year's Carol
Read More
Filed Under: