Orlando, Florida has been deemed one of the 10 Most British cities in the U.S. according to … well, us. Orlando made the list based on the fact that Brits travel to the area on holiday due to the nice weather, and many decide to stay with real estate being relatively less expensive than what's found in neighboring European countries. And where there are Brits … British shops, restaurants and events will follow. Check out 10 British things going on in Orlando below:
1. George & Dragon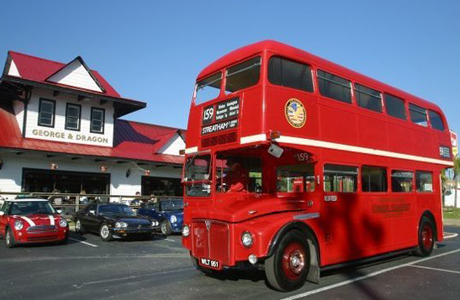 A house-like building with timbered wood gables, a hop-on-hop-off red bus, Mini Coopers in the car park and a traditional red phone booth (behind the bus) … did the George & Dragon, located at 6314 International Drive, leave anything behind in the U.K.? Well, the weather. In addition to parking some nostalgic items in front of the restaurant, they transported traditional British hospitality, homely atmosphere and a full menu including dishes like St. George's English breakfast, sausage sandwich, beans on toast, fish and chips, steak and kidney pie … just to name a few. You can check out the complete menu here.
2. The British Shoppe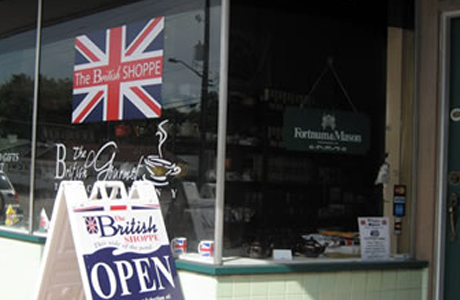 With Orlando having an expat community, where are Brits expected to get their eats and treats? The British Shoppe, located at 809 N. Mills Ave., of course. The store's shelves are lined with British goodies like teas, sweets, preserves, groceries and a frozen section with the likes of British bacon, bangers and black & white pudding. The exterior is cute and inviting and if you'd like to take a peek on the inside, you can check out this virtual tour here. If you can't make it there in person, you can make purchases online here.
3. Hurricane Who Convention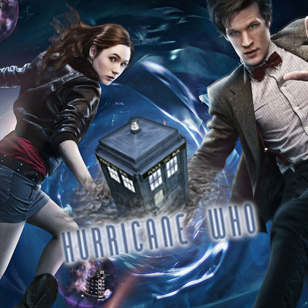 Hurricane Who is a fan-run group that organizes Doctor Who events in the Orlando, Florida area. Hurricane Who: Category Five, is the group's fourth full-weekend event, taking place October 31 through November 2, 2014 at the Doubletree by Hilton Orlando at Sea World, located at 10100 International Dr. The group has already confirmed guest speakers including Doctor Who writers Rob Shearman, Andrew Cartmel and classic series composer Dominic Glynn. It's still in the early days and we expect the event will be topped up with DW guests and fans by next year. We have a feeling the Guardians of Gallifrey: Doctor Who Fans of Central Florida already have their cosplay planned out. You may want to register early!
4. Cricketers Arms Pub & Eatery
Cricketers Arms Pub & Eatery, located at 7563 West Sand Lake Road, is one of the oldest and most authentic British pubs in Orlando. The pub is decked out with fun and fanciful decorations like ties from different nations with the Scottish lion embroidered on some, cricket bats hanging on the wall as art, and flags are hung in place of tapestries. The pub style tables with high stools are communal, creating a friendly, chatty atmosphere. The pub offers tasty British treats like sausage rolls, Scotch eggs, steak and Guinness pie and Doner kebabs. You can check out the entire menu here. While the atmosphere is delightful and the menu makes our mouth water, their "claim to fame" seems to be the fact that they have 20 beers on tap including six hand drawn ales like Fuller's London Pride and Innis and Gun. Check out the beer list here.
5. Orlando Shakespeare Theatre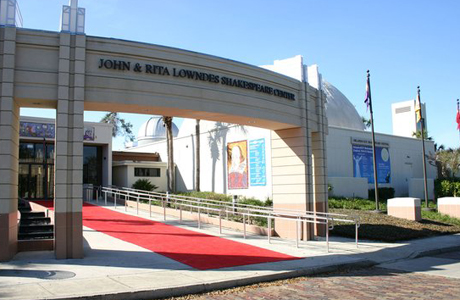 The Orlando Shakespeare Theater (John & Rita Lowndes Shakespeare Center), located at 812 E. Rollins St., "produces bold professional theater, develops new plays, and provides innovative educational experiences that enrich our community," inspired by William Shakespeare of course. The group just completed a production of Taming of the Shrew and making its way into the holiday season, will take a break from Shakespeare, and put on a performance of It's a Wonderful Life: A Live Radio Play, from December 4 – December 29. While not all of the plays are Shakespeare's, he's there in spirit.
6. The Wizarding World of Harry Potter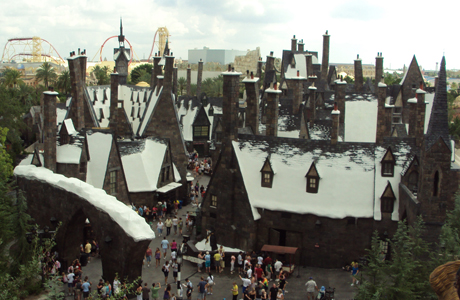 Who hasn't read Harry Potter or watched the films and thought, "I want to go there!!" Well, Universal Orlando Resort makes it possible with its theme park, actually it spans two theme parks, which opened in 2010. Once you make it through the towering castle gates you'll be met with current attractions including Harry Potter and the Forbidden Journey and the Dragon Challenge rides. The theme parks are continually growing with additions being made like a replica of the Hogwarts Express, which will open in 2014 transporting visitors between the two theme parks. A three-day celebration will take place from January 24 through January 26, 2014 and will include Q&A sessions with cast members and filmmakers, a wand masterclass conducted by Wand Combat Choreographer Paul Harris and a Harry Potter film tribute.
7. Epcot World: United Kingdom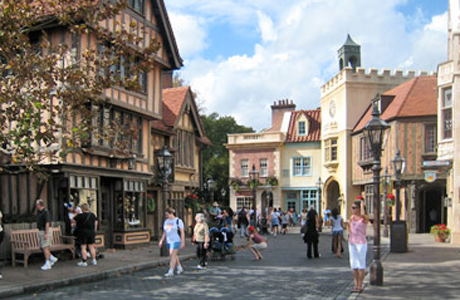 If you're in Orlando looking for a "Brit-fix" but don't have time to make a lot of stops, then Walt Disney World's Epcot Center is the place to go. Epcot has a "World Showcase" featuring eleven countries with the United Kingdom sandwiched between France and Canada. The streets mirror a quaint town with a pub, a fish 'n chip shop, shopping galore and entertainment with a band called "The British Revolution" who performs classic rock.
8. Orlando City Soccer Club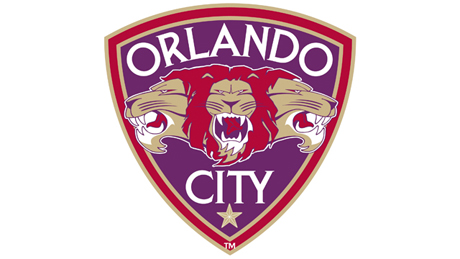 Orlando City was JUST named the 21st Major League Soccer Team on November 19, 2013. Prior to the announcement, the club's president Phil Rawlins, who is originally from Staffordshire, England, issued a citywide invitation saying, "We encourage all of our fans to come out on the 19th, which will be a historic day for the city of Orlando!" Orlando City will make its MLS debut in 2015. Maybe David Beckham should've been shopping around in Orlando rather than Miami?
9. Central Florida Cricket Association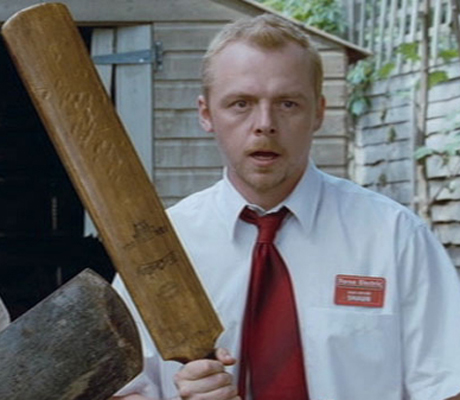 The Central Florida Cricket Association (CFCA), a non-profit organization, is the premier cricket league in Central Florida. The CFCA has been around for over 25 years, providing information on teams, tournaments, venues and schedules. It's a one-stop-shop for anything and everything about cricket in the Orlando area. While most clubs go on hiatus during the cold winter months, being an outdoor sport and all, the CFCA is still active and has a schedule of upcoming team matches here.
10. Central Florida Scottish Highland Games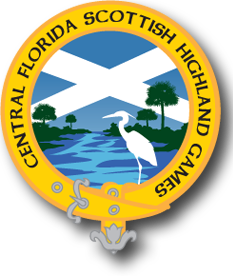 The Scottish-American Society of Central Florida, established in 1976, will host the annual Highland Games from January 18 to January 19, 2014 at Central Winds Park, 1000 E. SR 434, in Winter Springs, FL (23 minute drive). The games will include archery, athletics, pipes & drums, a Celtic rock band, "Boulder Boogie", whiskey tasting, Scottish Country Dance and Highland Dance. The Games are family friendly and offers kids games. If you'd like to see the full schedule, you can go here.
Do you have any additions to the list? 
See More:
The 10 Most British Cities in the U.S. 
10 British Things ABout Raleigh, NC 
10 Things British Expats Will Miss About the U.K.
Read More
Filed Under: