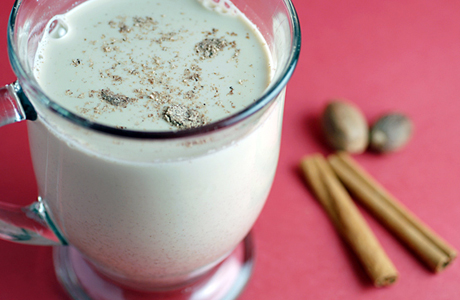 As with many cultural differences between the U.K. and the United States, you'd be forgiven for believing that Christmas is the same on either side of the Pond. After all, Christmas is Christmas, right? Well, while the overall message of Yuletide is largely the same in both countries, there are some subtle, if crucial, variations.
The language of Christmas, for instance, is not strictly uniform. Americans will chuckle to themselves (or appear bemused) if you wish them "Happy Christmas" (as opposed to "Merry Christmas"), while the shortening of Christmas to "Chrimbo" is almost universally unknown in the United States. Come to that, so is the name "Father Christmas"; Americans refer to him as "Santa Claus" or simply "Santa."
Whatever his name, it is widely held in the U.S. that Santa resides—along with his reindeer, his helpers and, of course Mrs. Claus—in the North Pole. Most Americans would think you've had one too many snowballs if you mentioned Lapland.
Actually, snowballs are also largely unheard of in America—at least by name. The closest equivalent stateside to that lovely mixture of Advocaat and lemonade is egg nog, a spiced egg-based drink often mixed with some sort of liquor (usually bourbon, rum or brandy).
Indeed, you might very well enjoy egg nog while sitting down to a good old American Christmas dinner. Except, don't necessarily expect to eat turkey. Americans reserve that particular food item for Thanksgiving, and often opt for ham or roast beef on Christmas Day. Moreover, traditional Christmas desserts such as Christmas cake, Christmas pudding and mince pies are not particularly popular in the U.S. More likely, your post-meal treat will take the form of one of the following: pumpkin pie, marzipan, fruit cake, apple pie, pecan pie, coconut cake or sweet potato pie.
During the dinner, of course, we Brits are used to putting on our paper hats and pulling a Christmas cracker with a fellow diner. No such luck in the United States, where paper hats are less common and Christmas crackers are virtually unheard of. Just think of all the rubbish jokes Americans are missing out on!
You might think the absence of the Christmas cracker would make for a rather underwhelming Boxing Day—the day after Christmas, when the remaining crackers are often pulled. Except Americans don't even celebrate Boxing Day (though it is a nationally recognized holiday in Canada). Indeed, upon your insistence that December 26 should mark another day off from work, many Americans will assume you've had one too many egg nog cocktails.
One thing America does have in abundance, though, is lights. The extravagant Christmas decorations you may have seen in films like Home Alone are real, and some homeowners even turn their houses into full-on light shows with Christmas-themed music blasting from a PA system. Driving through American suburbia at Christmas can sometimes feel like a tour of Disney World.
But while the U.S. is big on its Christmas music, there are a couple of musical traditions that are noticeably absent from its Christmas calendar. Firstly, there is no place in American popular culture for the Christmas number one! Despite the popularity of shows such as American Idol and X-Factor (the latter of which has, to much derision, produced several Christmas number one artists in the U.K.), the U.S. Billboard Hot 100 does not place extra emphasis on the artist or group that is number one at Christmas.
Secondly, at a time of year when Brits are used to seeing washed-up celebrities ply their seasonal trade in the latest pantomime, the U.S.—a country steeped in show business history—does not follow suit. Indeed, on the whole, Americans don't even know what a pantomime is.
For all of these subtle differences, though, even the most stubborn of British expats would find it hard not to enjoy Christmas—with its multitude of lights and bombast—in America. The key point is that both countries are very good at harnessing the Christmas spirit. After all, Christmas is Christmas, right?
What are your favorite Christmas traditions, Brits? Tell us below:
See also – how to have a British Christmas, Americans:
See more:
A Guide to British Christmas Traditions
What NOT to Do at Christmas: A Guide for Brits
A Brit's Guide to the U.S. Holiday Season
How to Cope with the Expat Christmas Blues
Read More
Filed Under: