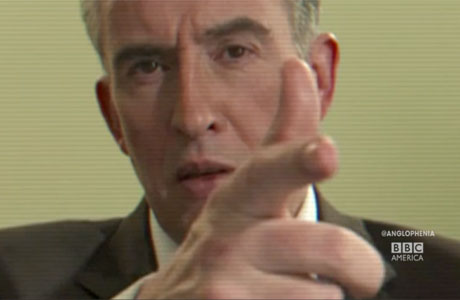 Steve Coogan can be seen appearing opposite Dame Judi Dench in a video which has been credited with getting the MPAA to change the restrictive R rating it had given to forthcoming picture Philomena out next week.
Coogan, who co-stars with Dame Judi in Philomena, says: "The video is just a bit of fun to add a little bit of levity—it's a serious conversation."
It's been reported that the film had been given an R rating because of two utterances of the "F" word. That decision irked Harvey Weinstein, whose company is distributing the film in the U.S.—and he took the MPAA to task.
The first video offering was a short teaser clip featuring just Dame Judi resurrecting her character, M, from the James Bond film series.
Then the full version emerged in the form of a satirical sketch mentioning the MPAA with Coogan appearing not as 007, but as another British agent with different identifying digits.
"I had a little cameo as 002, which is the closest I'll ever get to playing James Bond," says Coogan.
On Wednesday (November 13), The Weinstein Company announced it had won its appeal against the MPAA, and the rating had been revised to a less restrictive PG-13.
In a statement Harvey Weinstein said: "We owe this victory to Barbara Broccoli, producer of the James Bond series, Daniel Craig and Sam Mendes who because of their relationship with Judi Dench gave permission to spoof the ratings system using the M character. We know that went a long way into shedding light on the themes of the movie and the fact that the PG-13 rating was correct."
Philomena is an emotional story, based on real-life events, of how an Irish woman with the help of a British journalist, made efforts to track down her grown-up son in the U.S. He'd been given up for adoption, against her will, by nuns in an Irish convent where she was working in the 1950s.
Dame Judi Dench plays Philomena and Steve Coogan portrays the British journalist, Martin Sixsmith, a former BBC foreign correspondent.
Coogan doesn't just feel strongly about the film he's co-produced, co-written and stars in, but he's also quite a Doctor Who fan. With the series marking its 50th birthday he says: "It was always about imagination, and also it was intelligent. It wasn't about special effects. It was cerebral, and also it was something the whole family can watch. I think that's why it's endured."
See more:
WATCH: Steve Coogan on Cynicism, Bad Journalists and Working with Dame Judi
What's The Most Disgusting Word You Could Say To Dame Judi Dench?
Read More
Filed Under: