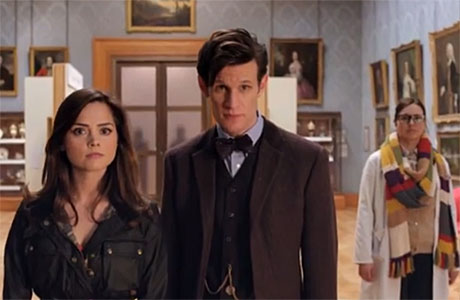 Well this #SaveTheDay thing appears to be working already.
A tiny snippet from "The Day of the Doctor," the 50th anniversary special, has just been released, ahead of tomorrow's proper trailer, thanks to tireless work by international (nay, universal) Whovians doing their bit with the hashtag.
It features the Doctor and Clara, and the voice of Kate Stewart, and they're looking at an intriguing painting, and you can rest assured, no spoilers have been injured in the making of this clip:
Although it would be good to find out the significance or otherwise of the lady in the Fourth Doctor scarf…
Now KEEP TAGGING!
See more:
#SaveTheDay – The Doctor Has Changed His Mind About Social Media
10 Sci-Fi Franchises Influenced by 'Doctor Who'
Greatest 'Doctor Who' References In Popular Culture: Asides
'Doctor Who': 11 Great Child Characters
Read More
Filed Under: