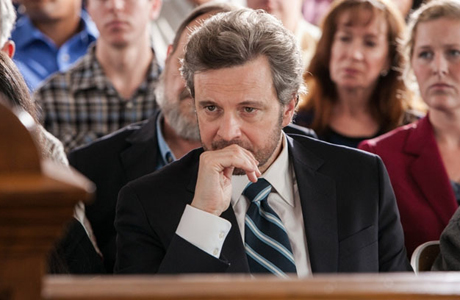 Colin Firth (The Railway Man) plays an American private investigator trying to figure out what happened to three young boys found murdered, in the film Devil's Knot, which is based on a true story that took place in 1993. The police, the prosecution and the entire town are determined the murders were tied to satanic ritual.
Reese Witherspoon (Mud) plays the mother of an 8-year-old boy who went out to ride his bike with friends and never came home. She is determined that the three young men the police arrested are in fact guilty but as more details are revealed, she doesn't know what to think. Firth's character searches for answers, pushing for evidence, before jumping to conclusions.
Here's a first look at the trailer:

This unfortunate story has been retold multiple times in the form of four documentaries—The Paradise Lost trilogy and West of Memphis—but this is its first time being depicted in a fictional setting.
The film also stars two familiar faces, Brit Stephen Moyer (True Blood) and Amy Ryan (Gone Baby Gone). The three accused are lesser known actors, played by James Hamrick (The Newsroom), Seth Meriwether (Trouble with the Curve) and Kristopher Higgins (The Secret Life of the American Teenager).
The U.S. release date has yet to be confirmed but it's predicted for 2014.
Do you have a preference for films based on true stories?
See More:
WATCH: Colin Firth in New 'The Railway Man' Trailer
Now Streaming on Netflix: BBC Thriller 'The Fall' Starring Gillian Anderson
Benedict Cumberbatch's Great-Great-Uncle was Tried for Murder
Read More
Filed Under: