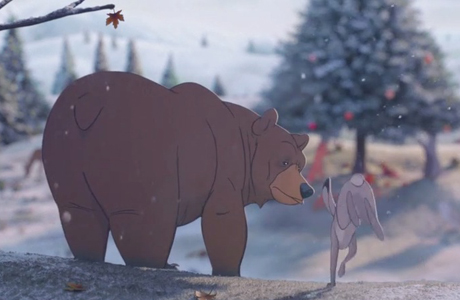 The famed London-based department store John Lewis, named Best Retailer of 2013, recently aired a delightful Christmas advert, which has garnered positive reactions via Twitter. The thing is, a lot of the love for the commercial is going to @JohnLewis who is an actual person, an IT professional in the U.S., not the retail store.
Here's the John Lewis "The Bear & the Hare" commercial about an "animal who had never seen Christmas," featuring Lily Allen's cover of Keane's "Somewhere Only We Know":
People were instantly affected by the commercial and wanted to sing its praises.
Tweets like this one went out:
Here it is folks – the @JohnLewis Christmas ad is amazing! http://t.co/MTY1WvZbuV #bearandhare *sniff*

— Richard Barley (@richardbarley) November 8, 2013
@JohnLewis kindly pointed out the understandable mistake:
@richardbarley I am amazing, and not just at Christmas. Though perhaps you were referring to the retail store. @johnlewisretail

— John Lewis (@johnlewis) November 8, 2013
There were numerous tweets similar to the above and @JohnLewis diligently, and with a bit of humor, replied to each one.
John Lewis, the department store, was thankful for Lewis redirecting the messages and sent him this:
Hi @johnlewis – thanks so much for all your efforts directing people to us. We'd love to send you a gift. Please can you DM us your address?

— John Lewis (@johnlewisretail) November 10, 2013
While this was an accident, it was a nice little exchange. @JohnLewis could have easily ignored the tweets, or not seen them, but luckily he did and he went out of his way to make sure they found their home.
It's kind of like what the Hare had to say:
Who agrees that giving a present is as much fun as receiving one? #bearandhare

— John Lewis Hare (@johnlewishare) November 11, 2013
Has this gotten you into the holiday mood? 
See More:
Snapshot: 16 Photos of Shopping Spots in London 
A Brit's Guide to the Holiday Season
Holiday Gift Guide
Read More