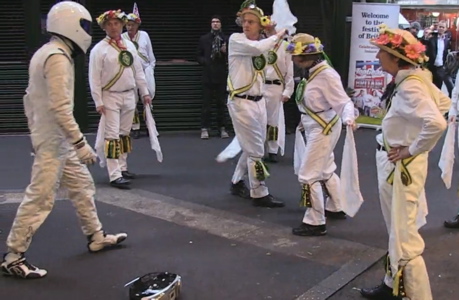 "Some say he hates Morris dancers with a dark and all-consuming passion," writes TopGear.com of, you guessed it, The Stig. "And they would appear to be right," our overseas friends continue, "if this footage taken yesterday in London is anything to go by."
The footage is of our favorite white-suited driver arriving at a publicity event for the book Top Gear's Guide to Britain. It seems fair to say that The Stig is no fan of folk dance:
By the way, you can order the book, subtitled "A Celebration of the Fourth Best Country in the World," at Amazon.
• There are new details and video that offer a preview of Top Gear's prominent place in the new Forza Motorsport. A few weeks ago, we were treated to a preview of Jeremy Clarkson's game narration. And we also recently caught a glimpse of The Stig's "digital cousin" in the game. This week, two new videos show James May introducing "modern muscle cars" and Richard Hammond on GT racing.
Forza Motorsport 5 debuts as a launch game on the new Xbox One system, which will be released on November 22. (via TopGear.com)
• Is anything as good as the music you listen to while you drive? Probably not, especially if you listen to music chosen by Top Gear. Sony Music has just announced a new three-CD collection, BBC Top Gear Driving Anthems, to be released next week.
"It's what The Stig would listen to if he had good taste in music," writes Contactmusic.com.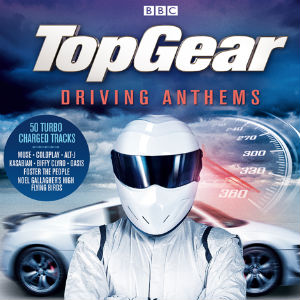 Among the 50 tracks are songs by Noel Gallagher's High Flying Birds, Foster The People, Coldplay, Beady Eye—and certainly by any one else you're sure to fancy. Click here for a complete track listing.
• We recently showed you some video that purported to be Jeremy Clarkson driving a McLaren P1. Now, the new issue of Top Gear magazine boasts this cover story, touted as a "global exclusive": "Clarkson drives the McLaren P1."
"Remember to forget all you think you know when you press the accelerator," Clarkson writes. "Because what happens when you do isn't real. It's from a world of sci-fi and monsters and fear. It makes everything else look like the past."
TopGear.com said that Clarkson apparently pushed the 900+ horsepower hyper-hybrid, "the most anticipated car of the decade" to "its 0-62mph-in-2.8-seconds, 217mph-top-speed limits."
"You have four heart attacks every ten seconds," Clarkson said.
• They're autographing cars nowadays. Jeremy Clarkson, Richard Hammond and James May signed a Ford Puma that sold last week at a charity auction for the bargain basement price of £575 ($922). The auction took place in Chelmsford, Essex (roughly 30 miles east of London) and raised almost £12,000 ($19,000) for needy workers in the automotive industry. The 23 cars all drove from Porsche's U.K. headquarters in Reading to the auto maker's factory in Stuttgart, Germany—taking a 13-mile spin on the notorious Nurburgring racetrack—and then driving back to Britain. (via The Essex Chronicle)
• Lest you need another example of Top Gear's influence over all aspects of daily life: the Grimsby Telegraph, reacting to cabdriver anger about roadwork in the seaside town in North East Lincolnshire, conducted a Top Gear-inspired traffic test. Three of the paper's reporters each took a different form of transportation to see which one worked best.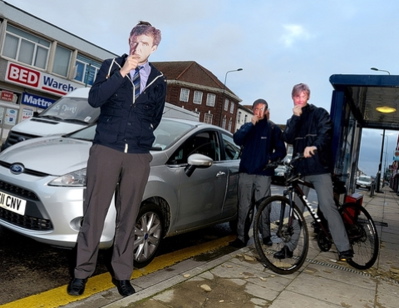 Reporter James Dunn described how he divvied up the participants in the challenge: "Me on my trusty bicycle as James May – who we decided was most likely to ride a bike—with Sam in the car as Jeremy Clarkson—who we decided was more likely to run down a cyclist and shout abuse at him for cluttering the roads. Simon was on the bus as Richard Hammond—because he was the only one left."
Sam, who drove the car, came in first with a time of six minutes; James, on the bike, came in 30 seconds later, and bus-bound Simon finished a whopping seven minutes later.
• BBC AMERICA's website has been running a Top Gear caption contest—you can enter on Mondays. Here's this week's photo and winning caption from Jennifer P. from Iowa.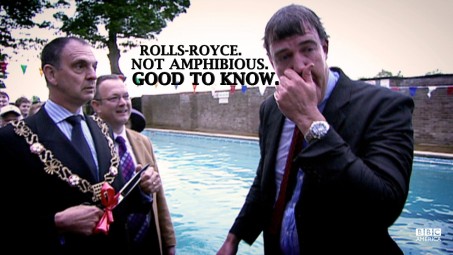 Read More
Filed Under: