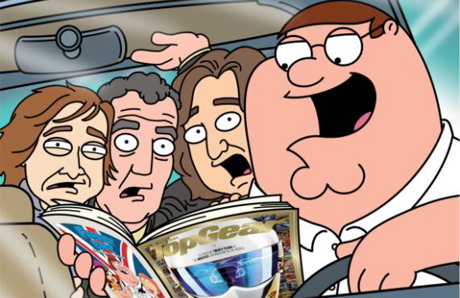 There appears to be one overarching theme for Top Gear this week, and it can be summed up in one word: cartoon.
Top Gear magazine has reached across the Atlantic to the fictional town of Quahog, Rhode Island to interview Family Guy creator Seth MacFarlane in character as Peter Griffin, the star of the animated series.
The interview yielded a Family Guy cartoon image, published by TopGear.com (above) of Peter reading the magazine while he's driving, as the trio of Clarkson, Hammond and May look on in terror. But it turns out that while Peter may be an absent-minded or drunk driver (as he is in several episodes), the story in the magazine revealed that he's not particularly speedy behind the wheel. When asked the fastest he'd ever driven, he answered: "88 miles per hour. I'd have gone faster, but I ended up back in 1955," referring to the time-travel made possible by a DeLorean (and a flux capacitor) in the Back to the Future movies.
The Radio Times published a brief excerpt of the interview:
Q: What was your first car?
A: A yellow 1985 Lamborghini. Matchbox. I got so much tail with it.
Q: And your best car?
A: My Chevette always behaved well, but probably because she didn't have air-conditioning or power windows or a floor, so it was up to me to make her run.
Q: How clean is your license?
A: I'd eat off it, if that's what you're wondering. I also use it to slice cheese and spread butter.
Q: Which country makes the best cars?
A: Wow. Geography? We specifically discussed NO GEOGRAPHY questions in the pre-interview.
Q: Have you owned an Alfa Romeo?
A: Um, what?
The full interview appears in the December issue of Top Gear magazine.
• Top Gear entered the cartoon world in still another way. The folks over at The Beano invited Richard Hammond to be the guest editor of the comic book's special Grand Prix edition, and the result of this collaboration hit newsstands this week.
Not only was Hammond a guest editor of the issue, but he was also a character in it, joining Dennis the Menace to help build a go cart. The Hamster's comic book alter ego was also tasked with trying to uncover the identity of The Stig.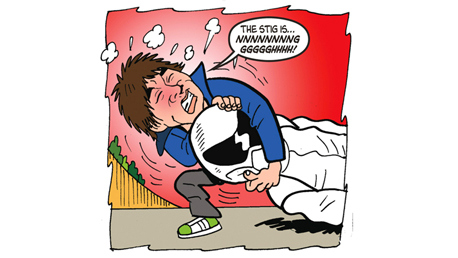 "The results are, well, predictably chaotic. The team were simply amazing and I thank them for letting me join in," Hammond said, according to TopGear.com. "I was a fan of the Beano as a kid: of course I was. I still am. And when they asked me to be guest editor I couldn't think of a finer opportunity or one that would have meant more to me as a kid."
The feelings were apparently mutual.
"Working with Richard on this issue was brilliant. I know that he's a long-time fan and his knowledge and passion for The Beano is reflected in this week's issue," said the comic book's editor-in-chief Mike Stirling, according to The Daily Record. "In The Great Beanotown Grand Prix issue we wanted to poke fun at the fact that dads love Clarkson and May and mums love Richard, and he was totally on board. Dennis's strip sees his mum fall for Richard's charms."
• The Top Gear Top 41 countdown of the show's greatest moments continues this Monday, Nov. 11, at 9p/8c on BBC AMERICA. Tune in and you'll see Jeremy, Richard and James attempting to build their own stretch limos, a Dakar car racing some extreme snowmobilers and Jeremy parking a Rolls Royce in a swimming pool.
Read More
Filed Under: