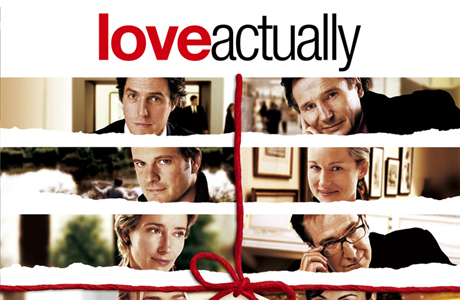 Raise a glass to toast the tenth anniversary of the U.S. release of British director-writer Richard Curtis' Love Actually, an enchanting, Christmas-themed movie that even Scrooges can embrace.
The film, which shuttles through ten overlapping stories showing Londoners either falling in love or having their hearts broken or both, starred a high-wattage cast, including Brits Hugh Grant, Colin Firth, Emma Thompson, Alan Rickman, Bill Nighy, Martin Freeman, Keira Knightley, Chiwetel Ejiofor, Andrew Lincoln and Irishman Liam Neeson. The first movie directed by Curtis, whose earlier screenplays included Four Weddings and a Funeral and Notting Hill, Love Actually opened in limited markets in the U.S. on Nov. 7, 2003 and in wide release a week later.
At the time, critics either loved the movie–reviewing the film in People magazine, I wrote, "Arriving early for Christmas, Love is a perfect gift"
–or they put on their grumpy caps and criticized it for being excessively sentimental and feel good. Typical of the second school was New York magazine critic Peter Rainer, who ragged, "The film's surplus of saccharine … will probably give pause to theater owners. After all, why would anyone watching this movie bother going to the concession stand for sweets?"
The film proved popular with moviegoers, grossing $247 million worldwide. It has gained even more fans over the years, thanks to repeated airings on TV, DVD sales (a 10th anniversary edition is currently for sale, complete with a Christmas ornament gift) and streaming (it's available on Netflix, Amazon and iTunes).
In honor of the film's anniversary, Marlow Stern, an entertainment writer for The Daily Beast site, persuaded Curtis and several of the film's stars and crew to discuss their memories of making Love Actually and to assess its lasting impact. You can read his story by clicking here.
A few notable highlights from Stern's article include:
–Curtis says, "The film has grown in popularity over the years. I don't remember feeling it was that beloved when it came out!"
–Actress Laura Linney remembers a day when "a lot of the schedules collided together, and there were all these trailers lined up on the set! I've never seen so many trailers in a parking lot. It was like a town; it was like 'Actorville.' Liam Neeson was next door to me, Emma Thompson was around the corner, Alan Rickman was two doors down, Hugh Grant was across the way, as was Colin Firth."
–Music Supervisor Craig Armstrong says, "I'm surprised they haven't done Love Actually 2! Maybe there's a way to go there… It would certainly be popular, wouldn't it? Tell Richard it's about time we do another one!"
Curtis' latest film, About Time, a romantic comedy starring Bill Nighy, Domhnall Gleeson and Rachel McAdams, is currently in theaters.
Are you a fan of Love Actually and, if so, what's your favorite scene?
Read More
Filed Under: