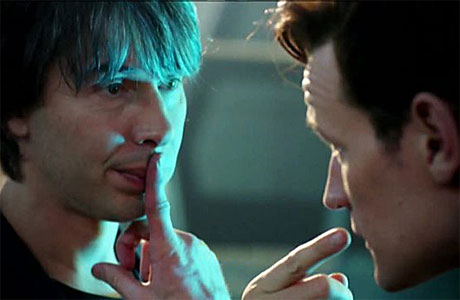 Next week, the Whoniverse goes head-to-head with the universe as we understand it, on BBC Two, with Professor Brian Cox (who is to physics what David Attenborough is to nature, as far as British TV is concerned) delivering a one-off examination of the scientific principles embedded into Doctor Who, from the lecture hall of the Royal Institution of Great Britain.
He'll be drawing on the very latest advancements in our understanding of the natural world in order to try and find a solid, scientific base for the incredible things that the Doctor can do.
For example, he'll be looking at whether time travel is possible, whether life exists on other planets, and whether a multi-dimensional craft like the TARDIS could ever exist in a meaningful sense.
Naturally, as these trailers serve to prove, the Doctor has his own answers:
See more:
Five Greatest Bits of 'Doctor Who' Music
#SaveTheDay – The Doctor Has Changed His Mind About Social Media
Complete Culinary Guide to 'Doctor Who'
'Doctor Who's Day Roundup: Neil Gaiman Is Back!
Read More
Filed Under: