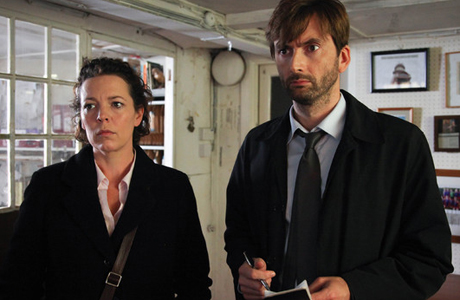 Fans of Broadchurch might want to do the happy dance. That's because Olivia Colman has confirmed that she'll be reprising her role as Detective Sergeant Ellie Miller for the crime thriller's second season.
The TV show's first season proved a huge hit on ITV in the U.K. last spring. (It aired on BBC America over the summer and early fall.) The actress won rave reviews on both sides of the Atlantic for her affecting portrayal of a police detective investigating the murder of a young boy in a close-knit seaside town.
At a press conference for BBC's 7:39, a new, 2-part drama in which Colman will star in December in the U.K., the actress for the first time said officially that she will be returning to Broadchurch, according to Radio Times.
She will not, however, be joining David Tennant, who played her fellow detective on Broadchurch, for the American remake of the series. The U.S. version begins shooting in January and is expected to air on Fox later in the year.
Late last month, the Daily Mail reported that both Colman and Tennant would be returning to the U.K. edition of Broadchurch, which is to begin filming in May.
In other Broadchurch news:
·          Production Weekly, a film and TV production tracking database, last week tweeted that Fox has rechristened the Yank version of Broadchurch as Gracepoint.
·          Chris Chibnall, Broadchurch's creator and writer, is teaming with Erin Kelly, a British author of psychological thrillers, to write a novel based on the TV series, according to The Telegraph. "The day after Broadchurch finished, a woman stopped me on West Bay beach and asked me 'When's the book coming out?' Now I have an answer," Chibnall said. Publication is planned for both the U.K. and U.S
·          Joe Sims, the bald-pated actor who portrayed plumber's helper and murder suspect Nige Carter on Broadchurch, has been cast in The Lost Honor of Christopher Jeffries. That's a 2-part drama planned by ITV that focuses on a recent real life murder case in the U.K. "Details of Sims' role are being kept under wraps but one source has pegged it as 'substantial,'" reported TV Wise, a British site.
Will you be watching Broadchurch's Season 2?
Read More
Filed Under: