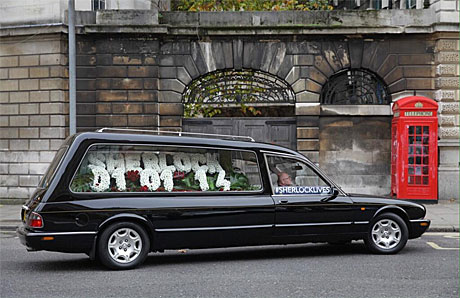 Never mind hanging the star of your show from a big crane in Trafalgar Square, when the producers of Sherlock wanted to make a fuss about the return of their show next year, they just hired a hearse, put the name of the programme and the transmission date in wreaths, a hashtag on the drivers window and set out for a drive around London.
It's happening right now.
BBC One's Twitter account even renamed itself #SherlockLives, just to further hammer the point home. And they're live-tweeting the progress of the car as it drives around London.
Sherlock Holmes – in *living* memory, #TheEmptyHearse premieres Jan 1st 2014 on @BBCOne. #SherlockLives pic.twitter.com/PnrWPTGnMp

— #SherlockLives (@BBCOne) November 29, 2013
Episode one of the new season is fittingly called "The Empty Hearse," and will be transmitted on BBC One on January 1. Episode two, "The Sign of Three," follows just four days later, and the whole season will be wrapped up for the Brits with "His Last Vow" on January 12.
Then, an agonizing seven days later, PBS picks up the baton.
Mark Gatiss—who wrote "The Empty Hearse"— had this to add:
Sherlock Holmes, consulting detective. Much missed by friends & family. In *living* memory. Jan 1st 2014! #SherlockLives

— Mark Gatiss (@Markgatiss) November 29, 2013
And of course, everyone is just going to have to make do with this teaser trailer for now:
See more:
'Sherlock' to Premiere Jan. 19 on PBS, Air Back-to-Back with 'Downton'
WATCH: New 'Sherlock' Teaser Trailer – #Sherlocklives
'Sherlock' Composer Promises "More Epicness"
Amanda Abbington: "I Really Had To Up My Game For 'Sherlock'"
Read More
Filed Under: