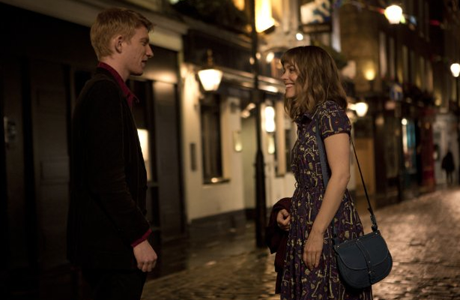 If you're longing for a glimpse of London, not to mention the coastal countryside in Cornwall, but don't have the bucks to spring for the airfare, you might try plunking down the ticket price at your local megaplex this weekend to see the new British movie, About Time.
Written and directed by Richard Curtis (Love Actually), this charming but slight romantic comedy is about a man who discovers that he can travel back in time for do-overs in his own life. The movie was shot on location in London and Cornwall.
About Time stars Dublin-born Domhnall Gleeson, that rarest of rarities, a ginger-haired leading man. (He's the son of Irish actor Brendan Gleeson.) He plays a young lawyer in London who falls for an American who's also living there, played by Rachel McAdams. The incomparable Bill Nighy, a regular in Curtis' films, portrays Gleeson's character's father, who can also time travel.
Among the London landmarks popping up in movie are the gleaming Millennium Bridge, the pedestrian-only crossway which spans the Thames from St. Paul's Cathedral on the north side to the Tate Modern on the South Bank; the National Theatre complex; the National Portrait Gallery (and the cozy café in its basement); and Paddington Station.
The movie also spends time in Cornwall, where the lead character's seaside family home is located. Those scenes were shot near Portloe, a small fishing village on Cornwall's Roseland Peninsula.
For $10 (give or take $3 depending on what your local movie theater charges), About Time is a way cheaper means of visiting England for two pleasurable hours than forking out thousands for plane tickets and a pricey London hotel.
Here's the U.K. trailer for the film:
Do you want to see About Time?
Read More
Filed Under: