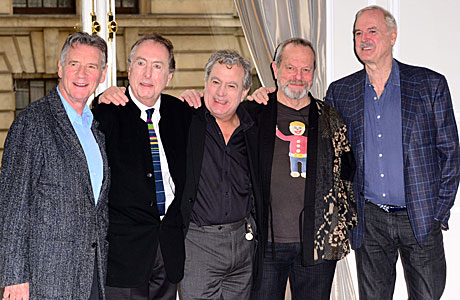 This is becoming a little like the speech given by the leader of the Spanish Inquisition about their chief weapons.
Having originally booked the London O2 Arena for a one-off reunion gig, Led Zep-style, the five remaining members of the Monty Python team were at pains to say they would not rule out working together again. They did it only the other day, in front of the press.
And they've kept to their word, not ruling out adding another four nights, due to extreme demand, and then continuing to not rule out adding another five after that.
So currently the one-off reunion is a ten-off reunion, and frankly it seems fairly likely that they'll eventually want to consider an American run, if demand continues to be this, er, demanding.
That is, providing they haven't had a big argument in the meantime.
The 72,500 new tickets go on sale 10am GMT on Friday 29 November.
John Cleese told Radio Times: "The response to our planned reunion has been very, very silly.  But, we're all touched that so many fans still want to see such old people perform.  So we're delighted to be adding more dates to the run at the O2."
See more:
The Moaning Of Live: Monty Python's Return In Full
WATCH: How Modern Movie Trailers Would Market Monty Python's 'Holy Grail'
Watch: Trailer For Insane Graham Chapman/Monty Python Biopic 'A Liar's Autobiography'
Read More
Filed Under: