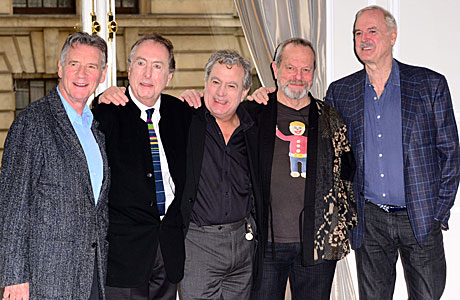 So, having reported a couple of days ago that the five members of the Monty Python team that have very much not kicked the bucket and gone on to meet their maker (et cetera) are getting back together, it seems their reunion is more of a Led Zeppelin affair than the full Blur.
There will be a huge concert at London's O2 arena next July, in which skits old and new are dusted down and given a fresh lick of paint in an endeavour that is part stage musical, part comedy, part farce, and part mass comedy shoutalong.
It's being directed by Eric Idle, who has spent some of the last few years distancing himself from his former colleagues. According to BBC News, who went to this morning's press conference, he promises "comedy, pathos, music and a tiny piece of ancient sex."
For his part, John Cleese wanted fans to know there will be some new stuff in there, if only so that the laughs will be fresh.
"People do really want to see the old hits but we don't want to do them in a predictable way," he said.
"The main danger we have is that the audience know the scripts better than we do."
There was also a rather lovely exchange between Michael Palin, Terry Jones and Terry Gilliam, that speaks volumes about their mutual affection. Michael said they "still enjoy getting together to be very silly", with Terry Jones adding, "silliness is always funny."
And the kicker from Terry Gilliam, "after you turn 70, you can be absolutely shameless."
Naturally the entire event will be filmed and released on DVD, and most tantalisingly for American fans that can't make the trip over to see them in the flesh, they haven't ruled out further performances.
Mind you, Led Zeppelin said that too, and where are they? Lazy, is what it is.
See more:
WATCH: How Modern Movie Trailers Would Market Monty Python's 'Holy Grail'
Watch: Trailer For Insane Graham Chapman/Monty Python Biopic 'A Liar's Autobiography'
Monty Python: Still 'Completely Different' After All These Years
Former Python John Cleese to Write Autobiography
Read More
Filed Under: