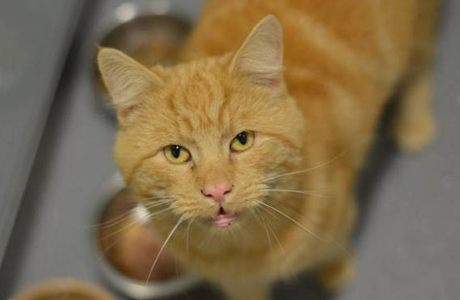 Commuters on the London Tube were surprised to see a feline passenger riding the train alone, sitting comfortably on a seat, reports Metro U.K.
We picture the orange tabby with a bow tie and briefcase, desperately avoiding eye contact, like all of the other train riders. But, alas, "Oyster" is just a typical domestic cat.
Oyster managed to get onto the Victoria Line at Seven Seas station in London. He doesn't have a microchip or collar,  his name "Oyster" came from his travels, the re-useable plastic train card in London is called an "Oyster Card".
Paige Jokovic, a fellow rider who works for the Battersea Dogs & Cats Homes, was on the train at the same time and said, "Everyone around him was just staring like they'd never seen a cat before."
Jokovic admits at first glance she thought Oyster was a teddy bear. But, once she shook that off, she scooped him up and put him in an animal carrier she happened to have with her. Jokovic planned to use the carrier later in the evening to pick up her own cat from the vet.
Jokovic escorted him the rest of the way telling Metro, "We both took the Tube to Vauxhall and I'm very pleased I was there to help him get off the tube, minding the gap, and escort him into Battersea."
She makes a great point; that gap is about "cat size" and he could have easily fallen through. We give our feline friend some credit, as cats are very agile and have good instincts, and we trust he would have headed the warning to "mind the gap." He managed to get on the train; we hope he could get off.
That is all moot with Jokovic coming to his rescue. She took him to her place of work, which rehomes cats as well as dogs.
Batterseas's Head of Cattery, Lindsey Quinlan, said, "Oyster is a happy boy who appears to have been simply making his way to central London."
The Battersea organization will try and reunite Oyster with his previous owner and if that isn't possible, they will find him a new home.
Oh, Oyster.
Have you had any strange run-ins on the Tube?
See More:
Cat Burglar Identity Exposed with Friendly Neighborhood Note
Sheffield Man Sets Up "Pet Cam" to Film Escape
What Are Brits Watching? 'The Secret Life of the Cat'
Read More
Filed Under: