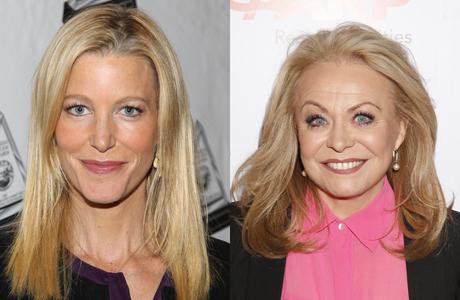 If casting can make a series, then the American version of Broadchurch, due to air on Fox next season, is off to an exceedingly promising start.
First came word that Doctor Who fave David Tennant will be reprising his role as police detective Alec Hardy from the original British version of Broadchurch, which aired on ITV in the U.K. and on BBC America here. Now comes news, reported in Variety and elsewhere, that Breaking Bad's Anna Gunn and Silver Linings Playbook star Jackie Weaver will be joining the U.S. series in key roles.
Gunn, 45, will have especially big heels to fill. She has signed on to play Ellie Miller, the police detective who works alongside Hardy to solve the murder of a young boy in a small, coastal town. The role proved a breakout one in the U.K. for Olivia Colman, who will continue as Miller on Broadchurch's second season in Britain.
Gunn's resume certainly suggests that she's up for the challenge. She won a Best Supporting Actress Emmy this year for her forceful performance as Skylar White, the wife of drug dealer Walter White, in Breaking Bad, and earlier had regular roles on Deadwood and The Practice.
Weaver, a 66-year old Aussie, has been cast as Susan Wright, a mysterious townswoman who may know more about the crime than she's telling. Pauline Quirke played the role in the British version.
While long a popular star and personality Down Under, Weaver only came to international notice in 2010 with her performance as a bloodthirsty matriarch heading a crime family in Animal Kingdom. The role earned her an Oscar nomination for Best Supporting Actress and she then nabbed a second Academy Award nomination last winter for Silver Linings Playbook.
Chris Chibnall, the creator and writer of the original Broadchurch, will serve as the executive producer of Fox's version, it is to be called Gracepoint. He will also write the pilot episode of the 10-episode series.
Are you excited by the casting of Anna Gunn and Jackie Weaver?
See More: 
It's Official: Olivia Colman Will Be Returning to 'Broadchurch'
10 British TV Actors Posing as Americans
'Broadchurch': The Evolution of Pauline Quirke
Read More
Filed Under: