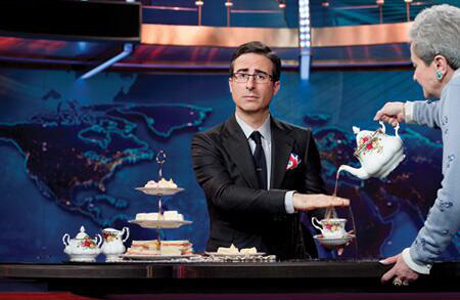 British comedian John Oliver must have done something right when filling in for Jon Stewart at The Daily Show earlier this year, because he's been offered his own TV show on HBO, reports BBC News.
Prior to taking over full-time, temporary hosting duties, Oliver was a regular contributing writer on The Daily Show since 2006.
The show will air on Sunday nights, beginning in 2014, revolving around weekly news with a satirical flair.
HBO's Michael Lombardo, President of Programming, said, "When we saw John Oliver host The Daily Show, we knew his singular perspective and distinct voice belonged on HBO," reports BBC News.
Lombardo explained that they weren't actively looking to produce another news show, with Real Time with Bill Maher airing on Friday nights. But, Oliver caught their eye and HBO didn't want to miss the window.
Oliver said he expects to get "free HBO now." Hmm, is that how the cable channel lured him away from Comedy Central?
Oliver is very thankful to Comedy Central, releasing a statement saying, "I want to thank Comedy Central, and everyone at The Daily Show for the best seven and a half years of my life."
He gives a special shout out to Stewart, giving credit where deserved, "But most of all, I'd like to thank Jon Stewart. He taught me everything I know."
He didn't stop there of course, saying, "In fact, if I fail in the future, it's entirely his fault."
Will you be watching his new show?
See More:
WATCH: John Oliver Takes His Seat at 'The Daily Show'
'The Daily Show' Special: John Oliver's Greatest Hits
Wedding Bells for 'Daily Show' comedian John Oliver
Read More
Filed Under: