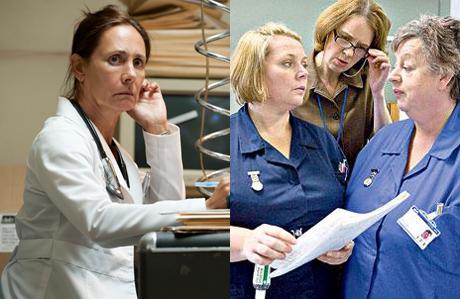 It's déjà vu all over again, to quote baseball sage Yogi Berra out of context.
The latest British TV show to get an American makeover, Getting On, the scathing BBC Four comedy series about nurses working in the geriatric unit of a National Health Service hospital, has its premiere this Sunday (Nov. 24) at 10 p.m. on HBO.
The HBO version of Getting On is set in an extended care facility at a hospital in Long Beach, Cal. and stars Laurie Metcalfe (Roseanne), Alex Borstein (Family Guy), Niecy Nash (Reno 911!) and Mel Rodriguez (Community). Guest stars who will pop up over the course of the first season's six half hour-long episodes include Molly Shannon, Harry Dean Stanton and Daniel Stern.
The American version has been created by writers-producers Mark V. Olsen and Will Sheffer; the duo were behind the pay cable channel's earlier, successful Big Love series.
Here's a clip from the first episode of HBO's Getting On:
The British version was created by and starred comic actresses Jo Brand, Vicki Pepperdine and Joanna Scanlan, who are also listed as executive producers on the HBO version. The original Getting On first aired in 2009 and ran for three seasons, ending in 2012. Brand, who worked as a psychiatric nurse before becoming a standup comic, won a BAFTA award for Best Female Performance in a Comedy Role for her work on the series in 2010.
For anyone wishing to compare and contrast the U.S. and U.K. versions, here's an equally scatological scene featuring Pepperdine and Brand from the BBC show, a clip that we never tire of viewing:
Will you watch HBO's version of Getting On?
See More:
Major Casting News for U.S. Version of 'Broadchurch'
Five British Game Shows the U.S. Should Remake
What Are Brits Watching: 'Casualty'
Read More
Filed Under: