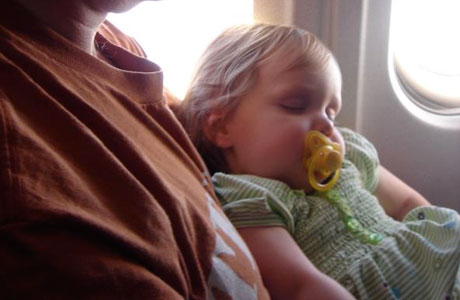 At some stage, we've all been the passenger in front of the child who's decided his in-flight entertainment will be pummeling the back of your seat for seven hours with his tiny devil feet. And then there's the baby a couple of rows down who doing its best exorcist impression. To your left, it's those twins from The Shining! (They're stabbing each other with forks while their parents stare regretfully into the middle-distance). All the while, you're wondering what dreadful thing you did in a former life to deserve being trapped in a flying metal tube with these malevolent, loud creatures.
If you can, spare a thought for the children's shattered, nervous owners. We dread flying with our young children, almost as much as you fear sitting next to them. (Alas, expat mums and dad will probably have to do more flying than most parents.)
But a few smart decisions and some forward planning can minimize the horror for parents, children and their fellow passengers. First off, fly at night if possible, and reserve your seats as soon as you can. Always choose the bulkhead. If you have a baby, this is especially helpful because many airlines—Virgin Atlantic and British Airways included—provide a limited number of cots that bolt onto the wall. You'll have to remove junior during take off, landing and severe turbulence, but otherwise this maximizes the chance of them sleeping and you drinking wine without a curious eight month old trying to shove his sweaty fist down your throat.
If you have a toddler or a child who's not old enough to understand that kicking the seat in front of them isn't on, bulkhead seats are an equally smart move. Pick the ones on the far left or right and you can even create a tiny makeshift playpen. Incidentally, if you're not flying with children and want to boost your chances of not being in the vicinity of any, avoid the bulkhead. The extra legroom just isn't worth it when your neighbor is a three year old who thinks your lap is an extension of her coloring book.
If you're flying domestically, a good way to placate the childless people sitting either side of you is to apologize in advance and buy them a drink. Unfortunately, it's much trickier to play the compensation card on an international flight where the drinks are free. All you can do is say sorry a lot and hope the surrounding passengers internalize their grumbling.
Keeping the kids entertained sounds obvious, but it's harder than it looks. They're overexcited because they're going on an plane, so their regular boring toys might get short shrift. Surprise them with a couple of swishy new (but small and silent) play things.
Also, bring an iPad and headphones. Suggest they start a holiday scrapbook. Before flying, introduce them to fictional characters who live in the sky. You'll be surprised just how long a determined three-year-old is prepared to spend on a stake out.
Most airlines will allow you to bring umbrella strollers (the lighter collapsible kind) to the gate. But check your carrier's rules on this in advance. If the flight isn't full, some airlines will even let you bring on a car seat, which you can also pair with inexpensive, snap-on wheels for a makeshift, travel stroller for babies under six months.
For infants who prefer to be held anyway, dispense with the pushchair and wear them in a sling or carrier for as much of the flight as you can. This will also make pacing the aisles easier when you're trying to get them to sleep.
Parents who are new to flying with babies worry a lot about ear pain. If your child is old enough, there are over-the-counter decongestants that work as a prophylactic. But always check with your doctor first. These same drugs, often used by adults to prevent in-flight earache, are not recommended for nursing mothers as they can leech into your breast milk and act, as my wonderfully blunt pediatrician put it, like baby speed. A workable alternative is to let babies nurse, bottle-feed or suck a dummy on the way up and down.
Travel with as little hand luggage as possible but remember the baby essentials: nappies, wipes, a change of clothes, food and drink and those exciting new toys I mentioned earlier. But the best accessory you can take on a long plane ride is a helper, be it a spouse, mother-in-law or even an older child. If you do have to go it alone, don't be afraid to ask the crew for assistance.
Above all, remember that how ever painful your in flight experience, it will end and you will recover. Probably.
What's your tip for flying with kids, especially on long haul flights? Tell us below.
Also, join @MindTheGap_BBCA on Twitter Wednesday (November 20) at 1 pm ET to discuss how to get the most out of traveling during this holiday season with guest co-host @BBC_Travel. Tweet us your thoughts, suggestions, and horror stories using hashtag #MindTheChat.
See more:
9 U.S. Vacation Destinations That Will Remind Brits of Home
Five Occasions When British Expats Should Fly Home – And Five When They Shouldn't
Eight Reasons Brits Move to America
Read More
Filed Under: