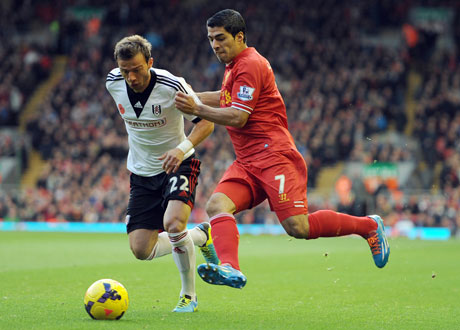 From a neutral's perspective, this season's Premier League is shaping up to be the most dazzlingly entertaining, beautifully unpredictable, and grossly absorbing in the division's history.  Since the BPL's inception a little over two decades ago, title contention has either been dominated by one team, or at its most open, run as a two-horse race. Eleven games in and over a quarter of the way done, the 2013-14 campaign could see one of a handful of clubs mount a serious challenge for the coveted Premier League crown.
This past weekend saw Manchester United beat leaders Arsenal 1-0 in what was the biggest and most important game of the season so far. Had Arsenal won the game they would have opened up a five point lead over second place Liverpool and gone eleven points clear of United; an advantage that would be difficult if not impossible to make up. Arsenal now remain in top spot by a couple of points, but the chasing pack is a tight-knit community with just four points separating eighth-placed Manchester City from second-placed Liverpool.
The three favorites going into the new season, Manchester United, Manchester City and Chelsea, all underwent managerial changes in the close season—the first time in history this has ever happened. Liverpool and Arsenal, meanwhile, were able to take full advantage of the vicissitudes while their rivals waited for the dust to settle on their new appointments.
Having finally loosened the club's purse strings, Arsenal have been rejuvenated this season by the £42.5 million signing of German international Mesut Özil. This combined with the scintillating form of Welsh midfielder Aaron Ramsay has produced some vintage Wenger football reminiscent of the "Invincibles" title winning squad of 2004. There is, however, a lack of options up front, with the unpredictable Nicklas Bendtner being the only alternative should the in-form Olivier Giroud be injured or suspended. If The Gunners are to launch a serious challenge for the title then manager Arsène Wenger would be well advised to dip into the club's coffers once more when the transfer window reopens in January.
The lethal combination of strike partnership Daniel Sturridge and Luis Suárez has been the key to Liverpool's early promise. The pair have been laying on goals for each other with the carefree casualness of friends buying each other a drink down the pub. The speed and directness of their attacks are so devastating that on their day they can beat anyone. Liverpool's problem will be strength in depth going into the business end of the season and holding their nerve should they be in contention. The Anfield faithful have been waiting 24 years for a league title. The pressure is on.
The surprise package of the season so far has been Southampton. The Saints are currently occupying third place, sandwiched nicely between Liverpool and Chelsea. Argentine coach Mauricio Pochettino has his side playing an attractive brand of high-pressing tiki-taka football molded on the style of Barcelona. And it's made them very hard to beat: they've only lost once in eleven games and have the league's best defensive record—conceding just five goals all season. They face big tests in the coming weeks though, with four of their next six games seeing them come up against Arsenal, Chelsea, Manchester City and Tottenham.
The second coming of "The Special One" to Stamford Bridge has given everyone at Chelsea a lift, although José Mourinho himself has stated that it will take a couple of seasons before he delivers a league title. That, however, will be dependent on owner Roman Abramovich's patience. If Chelsea are to be in the running this season then their goal-shy strikers will need to pick up the pace. Fernando Torres, Samuel Eto'o and Demba Ba have managed just three goals between them in the league thus far.
Without doubt the manager with the most thankless task this season is new Manchester United boss David Moyes. After a quarter of a century of glory under Sir Alex Ferguson, any new manager was going to have his work cut out. The result against Arsenal was massive for Moyes and has pulled United up to fifth place and right back into the title race. The partnership of Rooney and van Persie is flourishing, and the two of them staying fit is vital to United's cause. Moyes has never won a major trophy so his inexperience could cost him when the heat's on, but write them off at your peril.
Everton have started well under new boss Roberto Martínez, losing only one game so far this campaign. However, it's probable Martínez will pick up where former boss David Moyes left off and guide Everton to a finish somewhere between fifth and eighth place. The Toffees have finished in one of these positions every year for the past seven seasons, and it's difficult to see them bettering it with the limited squad they have.
After the sale of last season's star man Gareth Bale to Real Madrid, many pundits thought Tottenham Hotspur would be a weaker side this term. The truth is that they're actually about the same. The emergence of winger Andros Townsend has offered an almost direct fill for the void left by Bale. Spurs have kept more clean sheets (seven) than any other side in the league, but this is often at the expensive of entertaining football in favor of a more defensive, sterile style.
Manchester City have got off to a stuttering start to life under new coach Manuel Pellegrini. They seem to be suffering from a rather unpleasant bout of travel sickness, having lost four of their six league games away from home, the most recent of which was at lowly Sunderland. Goalkeeper Joe Hart's loss of form and an injury to captain Vincent Kompany hasn't helped matters either. But City undeniably have the deepest squad in the league and when they're on song they can rip any team to shreds. Their next league game against Tottenham is a big one.
Meanwhile, at the wrong end of the table … Crystal Palace look doomed, Sunderland's revival under new coach Gus Poyet is gathering momentum, and Fulham, Stoke, West Ham and Norwich are all anxiously preparing themselves for a relegation dogfight.
So sit back, relax and enjoy the rest of the season, because it promises to be the best one yet.
Who do you think will win the Premier League? Tell us in the comments below.
And join @MindTheGap_BBCA on Twitter tomorrow (November 13) at 2 pm ET to discuss the season so far and England's World Cup chances. Tweet your questions and comments using #MindTheChat.
See more:
British Expat: Why the U.S. Will Win FIFA World Cup By 2050
A British Soccer Fan on the Unique Appeal of the NFL
Five Ways to Catch Premier League Football in the United States
Read More
Filed Under: