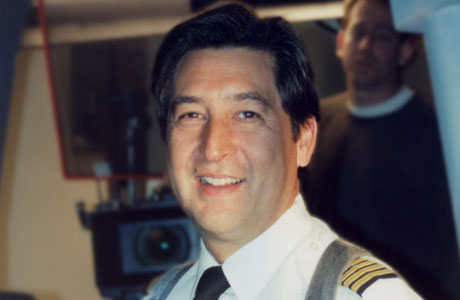 Movie studios and their top stars often fly on private jets, but where does a director go if he actually wants to film on board a luxury Lear, or capture a few frantic scenes in the cockpit of the kind of airplane you or I might fly from London to New York?
Behind the doors of a large and unglamorous warehouse in North Hollywood is a world we're more used to seeing at Heathrow, LAX or JFK—and Brit expat Richard Chan, 56, is the man who began Aero Mock-Ups, Inc. to supply the television and movie business with their airline needs—and all without ever leaving the ground.
Born and raised in Elstree, Hertfordshire—right under its aerodrome flight path—Chan first came to the U.S. in 1978 to further his aviation career and to build up his in-air hours as he qualified to be a pilot.
Unaware that Los Angeles had an established aviation culture—at the time it was home to Lockheed, Hughes Aircraft, Rockwell, Douglas and Northrop—he had chosen the Los Angeles area because of the number of airports and the scenic coastal views, though he also found a culture where people were always restoring or building an airplane.
He also noticed something many new expats, before and since, quickly find out about the U.S. "Everything was bigger; cars, roads, and meals—even 'All you can eat," he says. "On my first night in L.A. I was taken to Mulholland Drive to see the city lights. I was amazed with the enormity of L.A. as it stretched south."
He did however have a very unusual experience in his first month here. "They told me 'it never rains in Southern California,'" he says. "Right. In the month I arrived it rained 12 inches in 10 days—I felt that I had brought the English weather with me!"
After obtaining his pilot's license in the U.K. he returned to the U.S. and began working in aircraft salvage and accident investigation, but when excessive regulations made buying and selling aircraft parts more complicated, he saw another opportunity.
"I was interested in how Hollywood used airplane interiors," he said, "and had found out that they rarely moved from their location, and that if they were moved it was a difficult wide load process. But I thought there was a way to make a cabin mobile and manageable."
In 1987 he acquired two planes from what was then known as the "747 stage" at Universal Studios—the haul including the cockpit from the movie Airplane!, which rests by the building's gates.
The 20-foot long, one aisle narrow body airline cabins were "thick with paint" from endless redecoration and set to scrapped for parts, but then his secretary reminded him of his idea. The Art Department of television sitcom Married… With Children called soon after, and a new business had really taken off: "Twenty-five years later, that same set is still being used by soap General Hospital. Now I have 15 mockups occupying several buildings in two states (in New York, and in Vancouver, British Columbia too)."
It's quite odd inside the warehouse. Rows and rows of differently-colored airline seats hang from the ceiling, and there are segments of airplane interiors everywhere you look. There is a wall of airport signs, check-in desks, several airplane toilets—including one specially built for "Mile High" scenes—and shelves of props: "Just like real flying, you get a free bag of peanuts or pretzels with every airplane. Everything from trays to headsets comes as part of the deal."
When a production company calls, Chan only needs to know a few things: what class you're flying, whether you need a wide body (more than one aisle) or narrow body (just one aisle), and how many seats you need (which depends how far the camera is moving down the plane).
After that, his small crew—and often Chan himself—get down to work with their ingenious, interchangeable modular system that uses 10-foot segments of portholes and seats to make up what is required. Alpha sets are fully functional (the oxygen masks come down, the air vents and call buttons all work), Bravo sets are semi-functional, and Charlie sets are non-functional.
If there's not even time for that, they have an "Aircraft In A Box," which has a segment of four airplane portholes and as many seats as you need: it can be set up in just five minutes. What Chan calls "the smaller stuff" doesn't need much work though.
"Airplane designs we need to keep an eye on," he says, "but galley items, coffee urns and such haven't really changed much in 20 years. Either way, all airplane changes have to be approved by the Federal Aviation Authority, and that always takes time."
Chan says "a lifetime of experience" helps him get his planes—often from defunct or merged airlines around the world—though when he does find one, he really goes for it.
"I'll see the interior of an aircraft and buy it all, down to every last fixture and fitting."
He lives in Marina Del Rey with his California-born wife and, ironically, wishes that he had more time to travel. Also, not only does he miss British pub food and country drives, but "Where's your favorite pub?" is the question he gets frequently asked when he meets other Brits. He has some simple advice for newly-arrived expats too:
1. "Look both ways when crossing the street"
2. "Buy a British sports car. You'll understand how they work and it will get you extra cool status."
3. "Get used to being told 'Have a nice day.'"
Aero Mock-Ups, Inc works on around 100 shows per year and their list of credits covers countless blockbuster movies, television shows and commercials, but Chan wants a more frequently-updated website to showcase their work. He also wishes his inventory was available as a "Shopping cart" check-out option—it's just that he and his team are always in the workshop!
He's not complaining though. He says that the job is still fun even after more than 25 years, because no two days are ever the same. Recently he and his team had create an ice skating oval in a wide body airline set for a television show one week, then build a cabin interior into a freight elevator for a bar mitzvah in New York the next.
"To me the U.S.A. has always been a land of opportunity," he says. "I believe that if you are ready to work hard, remain open to change and learn from your mistakes, the possibilities for success are only limited by your imagination."
Read More
Filed Under: