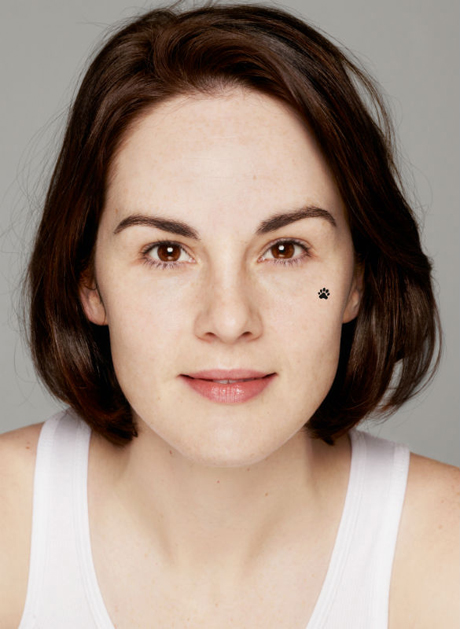 It's one thing for a glamorous actress to zip out to the corner store sans makeup but quite another to allow herself to be photographed that way. But that's exactly what Downton Abbey's Michelle Dockery and other British female celebrities have done.
It's all part of the latest fund-raising campaign for the BBC Children in Need charity fund, which helps disadvantaged children across the U.K.
Dockery is joined in the campaign by Broadchurch's Jodie Whittaker, singer Rachel Stevens, Olympic gold medal winner Denise Lewis and eight other usually maquillage-wearing British personalities. They volunteered to be photographed without a single dab of makeup by celebrity and fashion photographer John Rankin Waddell, better known by the mono moniker of Rankin.
Their only decoration? A small temporary tattoo of a bear's paw print.
It's for the charity's Go BearFaced campaign. Women across Britain are being encouraged to ditch their face paint on Nov. 8, decorating their visages on that day instead with an ursine paw print.
Pudsey Bear, a teddy bear with a bandage across its head, has long been the symbol of the charity. The Pudsey paw print stickers are currently available at U.K. post offices and on line at the Post Office shop.
To view the full gallery of celebrities who've gone bearish, click here.
Who do you think looks best without makeup?
See More: 
'Sherlock' to Premiere Jan. 19 on PBS, Air Back-to-Back with 'Downton'
'Downton Abbey' Exec Julian Fellowes Teases Season 4: 'It's About Lady Mary's Rebuilding'
Read More
Filed Under: