This group of Downton Abbey-esque butlers hit the London Tube, to spread the word on the Series 4 DVD launch in the U.K. The butler brigade is an attempt to get Britons into the holiday spirit, with the shopping season upon us. We know, we know … Series 4 hasn't aired in the U.S. yet and it's already on DVD in the U.K.? The simple answer is: Life isn't fair. The wait may be frustrating but the images are a bit of fun and we couldn't resist. And, we can just think of the fourth season as a New Year present, premiering on Jan. 5, 2014 on PBS.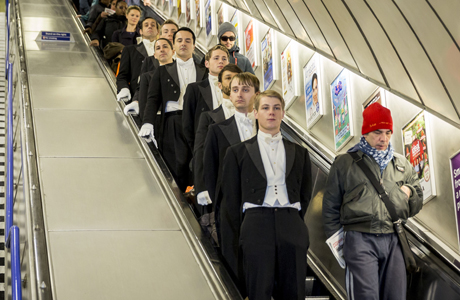 The group swung by a Tesco in the London borough of Enfield and even stepped behind the counter, waiting on patrons. You can take a peek at the snap here.
What would you do if you ran into this lot on the street?
See More: 
10 Predictions for 'Downton Abbey' Season Four
'Downton Abbey' Gets Renewal for Fifth Season
'Downton Abbey' News Roundup: Roles are Stacking Up
Read More
Filed Under: