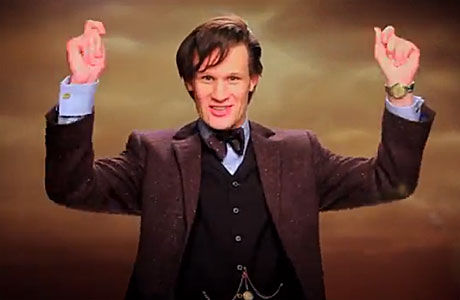 It's hard to pinpoint exactly which is the more exciting development of the past seven days; the sudden explosion of stuff pertaining to the 50th anniversary—trailers, teasers, pictures, gossip, quotes and all sorts, just keep on reading and you'll see—or the certain knowledge that this collection here represents just the foothills of a gigantic mountain of amazing stuff that is still on the way.
So, here is everything that has happened in the past week, apart from things we may have accidentally overlooked in the rush:
• First, there was the #SaveTheDay hashtag campaign, in which the Doctor very excitedly reveals a plan to make a digital TARDIS (complete with hidden treasures) out of hashtag links. Look, here he is explaining it:
And here's where we've got to so far in the actual construction.
• Now, to business: "The Day of the Doctor" is officially airing at 2.50pm EST on BBC AMERICA, as part of some epic Whovian programming, during which Doctor Who effectively takes over the entire channel. You can read all about it here.
• And here's a handy global guide to watching Doctor Who on November 23 via the Doctor Who Tumblr.
• And here's the full length trailer:
• And this tiny snippet, which has already caused heated discussions to break out as to the significance of the scarf on the lady to the right:
• New pictures from "The Day of the Doctor", and an interview with Joanna Page in which she says: "So everyone is probably jealous, thinking 'she gets to kiss the Tenth Doctor and it's all romantic', but it's not; my lips were numb and my hands were chapped."
• Now, what else? Oh yes! Strax is back! He doesn't like Zygons, and he does like the Scots:
• An interview with Jessica Raine about playing Verity Lambert in An Adventure In Space And Time, during which she says: "I actually do remember being really afraid of the Daleks. I was just terrified of their horrible voice which I always equated with the voice on the tube."
• The cardboard TARDIS, made out of cereal boxes by special effects designer Mike Tucker when he was a boy, is to be exhibited alongside his more famous, grown-up creations, such as the Russell T Davies Dalek.
• Professor Brian Cox and the Doctor face off, in teaser trailers for The Science of Doctor Who, which will air on BBC AMERICA on Monday, November 18, at 10 pm ET
• A complete culinary guide to Doctor Who, from jelly babies to fish custard.
• Whovians in New Zealand are bouncing their voices off the moon in tribute to the 50th. What? It IS a thing!
• Someone on Etsy made a Doctor Who baby mobile for a little, red-haired girl called Amy.
(pic: UTLVRev1312)
• Jenna Coleman had to read Matt Smith's final story in installments, and she describes it as being "sad, but perfect."
• The Telegraph takes an appreciative look at the Third Doctor.
• Steven Moffat spoke to SFX about John Hurt's character, and said, enticingly: "He's not a fresh-born Doctor. We didn't want to imply that he'd just been around for a little while. There's a whole lot of stuff you missed! It's a nice thing to be able to say in the show, and for no one to be able to contradict you, that there were years that you didn't know about… we lied and lied, there's a whole big old chapter you didn't know."
• Digital Spy's second favorite story is "Blink."
• An interview with Tilda Swinton in which she says "I can remember every frame of the Cybermen. Long live the Doctor!"
• There's a new sonic screwdriver app in the Apple Market. (It is available for iPhones in the U.S. and costs $1.99.)
• Den of Geek have rounded up 50 great Doctor Who scenes.
• An interview with Richard Curtis, in which he credits having written a script for Doctor Who with giving him the confidence to write About Time.
• The five greatest bits of Doctor Who music (and yes, the theme tune is one of them).
• Gamers, rejoice! For Doctor Who Legacy is coming to iOS and Android. Look:
• An interview with David Tennant, in which he says, with some understatement: "I think since I left, the expectation had been that I'd end up in this special, because there is a precedent for old Doctors coming back for a visit around the anniversary time."
• The British children's TV show Blue Peter is launching a competition, in which their audience are invited to design a sonic device for the next series of Doctor Who. It could be anything, from a toaster to a pencil.
• A charming interview with Bernard Lodge, who created the eerie opening credits to the first Doctor Who, setting a benchmark that all subsequent title sequences have had to meet, in which he says this: "I thought it would be good to have the Doctor's face coming out of the pattern, but Verity [Lambert] thought it would be too scary and I think she was right because when my kids saw just the shapes they were scared. "
• 10 rumors about "The Day of the Doctor" that WhatCulture hopes are true.
• Not to be outdone, here are our 10 most epic Doctor Who speeches.
• This man wrote an open love letter to the Doctor and it is wonderful.
• Tumblr user jennylovesangels got bored and made a Dalek out of a coffee cup and it's pretty cool:
• The petition to get the Empire State Building lit TARDIS blue now has over 34k signatures.
• The BAFTA Los Angeles Britannia awards were held on Saturday (November 9). Benedict Cumberbatch was one of the honorees, and a couple of Doctor Who stars were in the audience, looking predictably fabulous. Alex Kingston popped by Anglophenia's table at the Beverly Hilton to celebrate her Anglo Fan Favorites Woman of the Year win back in October.
#DoctorWho's Alex Kingston stopped by to chat about her #AngloFanFavorites win! #Britannias pic.twitter.com/WT6RUxa8l2

— anglophenia (@anglophenia) November 10, 2013
Hello sweeties! It's #DoctorWho's Alex Kingston! #britannias pic.twitter.com/fWDFv1kc08

— anglophenia (@anglophenia) November 10, 2013
And check out her on-screen mother Karen Gillan providing us with this brilliant '80s-inspired look:
#DoctorWho's @karengillan2 serving vintage Annie Lennox. #britannias pic.twitter.com/jZE9l2VoHX

— anglophenia (@anglophenia) November 10, 2013
• So apparently David Tennant is actually a crazy cat lady, and here's proof.
• And finally! The '70s funk band Mankind are re-releasing, remixing and generally re-swizzling their 1978 disco version of the Doctor Who theme, in time for "The Day of the Doctor."
The original goes like this:
TTFN!
Read More
Filed Under: