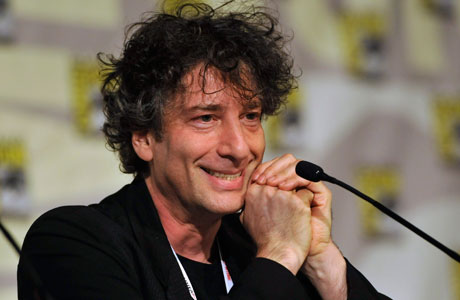 It's November! Which may mean moustaches for some people, but for those of us with a notably double-hearted take on things, it means we're now approaching the 50th anniversary at quite a lick.
Surprises are leaping up from all sides, but a particularly delightful one is the discovery that Neil Gaiman has written the eleventh of the anniversary e-book series, and his third adventure for the Eleventh Doctor.
It's called Nothing O'Clock, and is the story of a race called the Kin, imprisoned by the Time Lords in an impregnable fortress, thousands of years ago. Now there are no more Time Lords (with one notable exception), and the Kin have escaped. Can the Doctor single-handedly achieve what his people could not?
And before you ask, yes, he'd love to see it filmed. He told BBC Radio 1: "Once I'd finished telling my story, in which I create an incredibly creepy Doctor Who villain or possibly bunch of villains called The Kin, there was definitely part of me who went 'You know, wouldn't it be fun to put this on screen?'"
You can expect to download it from Amazon and iBookstore on November 21.
And while we're on the subject of delights and surprises, BBC AMERICA has announced a premiere date for the period drama An Adventure In Space and Time, which tells the behind-the-scenes story of the early days of Doctor Who's production. It is scheduled for Friday, November 22 at 9 pm/8c in the U.S.
• Or this interview with Mark Gatiss about An Adventure in Space and Time in which he says: "Above all, I wanted it to strike a chord on a human level. These were brilliant, complex, talented people making something revolutionary. And, in William Hartnell, we have the very affecting story of a man redeemed by the role of a lifetime who then, sadly, had to let it go. I think we can all relate to something like that in our lives."
• And to add to that, here's an interview with David Bradley in which he says this: "I know he had a reputation at times for being cantankerous and rather difficult and one has to play that. It was clear from research and hearing his colleagues talk about him that he was a perfectionist. He demanded a lot of himself and he expected everyone around him to show the same level of commitment."
• And in case you don't know your Terry Nations from your Verity Lamberts, here's our roundup of 10 of the people who were responsible for Doctor Who's creation.
• And 10 science fiction franchises that took inspiration from Doctor Who.
• We also put together two mammoth posts listing references to Doctor Who from popular culture, including this, from CSI: New York:
• And this, from our roundup of Whovian parodies:
• Here's BBC America's countdown of the top 11 monsters of Doctor Who:
• A reminder: here's a Facebook app that will put you in the opening titles of DW.
• Radio Times did it with Benedict Cumberbatch's face, because OMG! SQUEE! etc.
• 5 (more) companions that What Culture would like to see back again.
• And here are their top 6 David Tennant TV roles.
• And their top five Ninth Doctor stories.
• And eight fantastic moments of continuity and back-referencing across the span of Doctor Who that you may not have noticed.
• 10 memorably trippy moments in Doctor Who.
• An interview with Tom Baker, in which he says this: "Being Doctor Who, I used to look at the clock and know at half past four we were going to stop rehearsing—and that was a sad moment for me because I wanted to stay in this beautiful, unreal world."
• Whereas Buzzfeed have firmly tugged at the drashig's tail with their 'definitive' ranking of all the companions.
• 31 times Matt Smith was perfect (in honor of his birthday).
Let's end with a gallery: it was Halloween last week, which means it's time to raid the dressing-up box!
• Hats on (and then off again, depending on the Doctor) to Katie Kent, aged two, and to her parents, who dressed her as all eleven Doctors for Halloween. Here's Seven:
• This Whisperman is fantastic.

• And this real life Minecraft Doctor.
• And this pretty TARDIS mask.
• This dad has been making a spectacular effort.
• But in the end, this cute drawing of the Doctors dressed as each other is too adorable, and therefore wins.
Note: The Twelfth Doctor isn't dressed as Sherlock at Buckingham Palace, by the way, the sheet represents the costume he does not have yet.
TTFN!
Read More
Filed Under: