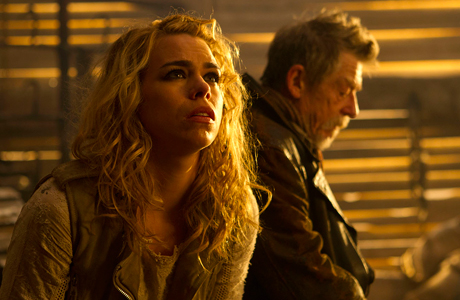 Doctor Who showrunner Steven Moffat, clearly on a high from the achievement of "The Day of the Doctor," its astronomical U.K. ratings, and Guinness book world record for biggest TV drama simulcast, gave a lively interview to a group of journalists as the Doctor Who celebration in London came to a close. And finally, he had the freedom to discuss the decisions behind the closely-guarded Doctor Who 50th anniversary episode, which was finally made public yesterday (November 23).
Interestingly, Billie Piper, who returned for the episode, never had any interactions with her Doctor, the also-returning David Tennant, instead sharing all of her dialogue with John Hurt's War Doctor. And certainly she wasn't playing the Rose Tyler we'd come to know. But Moffat explained his approach to Piper's return in today's roundtable discussion.
"I thought the story of Rose, which was beautiful, was done," he said. "I didn't want to add to it, and I didn't feel comfortable adding to it, really. That was always [former Doctor Who showrunner] Russell [T Davies]'s story. But we did want Billie. And I liked the idea of bringing back the Bad Wolf version. The way Russell ended it in "The End of Time," by just sort of looping it around, was perfect. I didn't want to stick another bit of it in. That would be wrong. I just wanted to get Billie Piper, one of the absolute heroes of Doctor Who, back in the show, but without interfering with the story of Rose Tyler. I just thought I might spoil something. I might trip over my bootlaces doing that."
If Billie had declined the role, Steven says, "There would have been options" in terms of other Who actresses to bring back. But, he said, "none of them would have been as perfect as Billie, who, in some ways for me, represents the revival of Doctor Who more than anybody else. I know I'll get in trouble for saying this, but if you look back at the first two years of Doctor Who's revival, it's all about Billie. It's all about Billie. It's her show for two years. I mean, it's really startling watching 'The Runaway Bride' and you're going, 'Where is she? Where's the star of the show?' So it was great to have her. We'd have done something else [if we couldn't get her.]"
Speaking of Mr. Davies, he and Moffat are clearly still in close contact. Moffat said Russell was the first email after watching the 50th anniversary episode. And Moffat also revealed a bit about their working relationship in the interview when asked if he prepared Russell for the plot of "The Day of the Doctor." "It's difficult with Russell because he doesn't like spoilers. When we worked together on the show, we tried not to spoil each other. I'm really serious. When I was doing 'Silence in the Library,' [he said], 'I want you to have River Song pre-figure something about what's going to happen to Donna, and I said, 'Don't tell me what's going to happen to Donna!' And I said, 'What kind of thing is it?' 'It's sad, Steven. It's very very sad.' I said, 'OK OK, I'll put something sad in.' [Former production head] Julie Gardner was sitting there saying, 'You're working on the same TV show. You can't behave like this.'
"But [for 'Day of the Doctor], we did coordinate around some stuff and I said to him I was possibly treading on your toes, so here's roughly what we're going to do. He said, 'I read half your email and then I stopped.'"
As far as singling out Tom Baker as the only classic Doctor to return for the 50th, Moffat said, "I know I had all of the 11 Doctors there, but you can't have a scene with 11—or even 12— people there. You can't do it. To have the longest-standing Doctor make an appearance and show the current Doctor [Matt Smith] where to go, well, that's irresistible, isn't it? It's important that you get to hear that voice again and get all his little mannerisms into one scene. It's just wonderful.
"But, you know, I get the impression—I don't know the man at all—that he's warmed up to doing Doctor Who and to that part of his life. He's doing the audiobooks for Big Finish." However, on having Baker return again, Moffat said, "I have a slight paranoia about 'it seems like every bugger is playing the Doctor, more or less all of Equity. It'll have it's own Spotlight section next.' I think, quite soon, it's going to go back to a militant 'There's one Doctor and that's who he is.' He's one man with many faces, he's not a committee of people with unusual hair. Because we had John Hurt as well. So very shortly, we're going back to just one Doctor."
That one Doctor, after Matt Smith's departure in the Christmas special, will be Peter Capaldi—which, I'll have you know, is pronounced "cah-PAL-dee" and not "cah-PAHL-dee," lest you want a tongue-lashing from Moffat on proper Scottish pronunciation. The Thick Of It star has obviously [spoilers!] already appeared on the show, in a stunning close-up, in "The Day of the Doctor," which was always the plan. "All The Doctors, all The Doctors would fly in to save Gallifrey and change The Doctor's timeline – how could you not do that? I knew there was gonna be a new one [Doctor] so I wrote it with not knowing who would be doing that. We did manage to cast somebody where you can use half his face for less than a second and everybody knows who he is. He looks cross!"
Capaldi has shot his regeneration, which Moffat teased: "He's brilliant. The energy, the vitality he brings to his performance. I mean, he works. He's like Matt [Smith]. He works, he's a worker. And he's an extraordinarily vital and physical performer. People keep talking about this elderly Doctor, as if that's something of an achievement. But this man is not at all elderly in style. He leaps around the place probably more than any other Doctor in that first scene. But that's not how he's going to play it. That's just him in the post-regeneration madness. It's something we're still working at."
See more:
Steven Moffat on Christopher Eccleston's Absence from 'The Day of the Doctor'
'Doctor Who' Celebration Panel Focuses on Matt Smith's Departure, 50th Anniversary
Best of 'Doctor Who' 50th Anniversary Poll: Why The Show Endures
Read More
Filed Under: