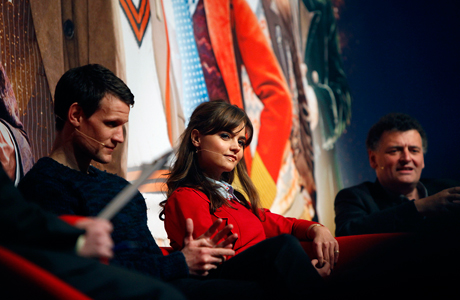 Themes of loss and rebirth loomed above "The Eleventh Doctor" panel today at the Doctor Who celebration featuring Matt Smith, Jenna Coleman, showrunner Steven Moffat, and producer Marcus Wilson.
By the end of Christmas Day this year, two of those names—Smith and Wilson—will have officially departed the show, while the other two will usher in a new era of Who with Twelfth Doctor Peter Capaldi.
But this transition will not occur without a period of mourning. Asked about her saddest moment while on the show, Coleman responded, "Saying goodbye to this one," pointing at her partner-in-crime, Eleventh Doctor Matt Smith, who will be subsumed in a blaze of regenerative energy and turn into Capaldi in this year's Christmas special.
Moffat agreed: Matt's departure would be the saddest moment for him in his three years running the series. After all, Moffat took over the reins of the show as an ultimate fan, and Smith embodied the character he grew up loving. "I've worked on many shows," Moffat said. "Some I've created. I've never been as emotional about them as I am about Doctor Who."
But Doctor Who revives itself through constant changes, with companions coming and going, and the Doctor taking on new forms. "You never tire of seeing someone enter the TARDIS for the first time," Coleman said when asked about why Doctor Who endures.
Finding an appealing, commanding Doctor has always been a key part of the show's survival, and Matt Smith seemed almost genetically engineered for the role. Moffat revealed that the production team were "almost certain we were going with someone older, since David Tennant was a young Doctor." But that's because they hadn't met Matt Smith yet, and when he auditioned, he immediately nailed the crotchetiness necessary for playing a 900-year-old. (Moffat boasts that he has the casting tape on his laptop. Will it make its way to YouTube one day?)
Fans, who loved the romance and righteousness Tennant brought to the Time Lord, were willing to give a new actor a chance. Smith, whose hair is finally growing back after he sheared it off for Ryan Gosling's How To Catch a Monster, waxed rhapsodic over his rock star reception at the Village East Cinemas for the U.S. premiere of his Doctor debut, "The Eleventh Hour." "You guys go wild for it over there," he said.
"I tried to embrace his old crankiness while have a young face," Smith said.
Meanwhile, Smith says the Doctor is in good hands with Capaldi. "Peter Capaldi is an actor of the highest regard," said Smith. "Anyone with doubts should watch The Thick Of It."
But, of course, before Capaldi takes over the TARDIS, there's still Smith's penultimate episode, the much-awaited "The Day of the Doctor." The panel was mostly mum about the highly guarded plot details of the 50th anniversary episode. Moffat praised Marcus Wilson's contributions to it: "The 50th looks like a multimillion dollar blockbuster, and it's all because of this guy," gesturing toward Wilson. (Wilson, whose final episode is the Christmas special, says he's sad but "I'm going out with a bang.")
Meanwhile, Jenna Coleman's lips are sealed when it comes to revealing former companion Billie Piper's role in "The Day of the Doctor." "I have been told to say nothing regarding Billie," she told the crowd. "So that will be a big surprise tomorrow night."
Aw, Matt and Jenna. #dwcelebration #doctorwho pic.twitter.com/zaLmsAgxJ6

— anglophenia (@anglophenia) November 22, 2013
Steven Moffat: 'Take any other series and we could do any of their stories as a SUBPLOT in five minutes!' #DoctorWho #DWCelebration

— anglophenia (@anglophenia) November 22, 2013
See more:
PHOTOS: 'Doctor Who' Celebration Begins in London
Best of 'Doctor Who' 50th Anniversary Poll: Top 5 Doctors
Read More
Filed Under: