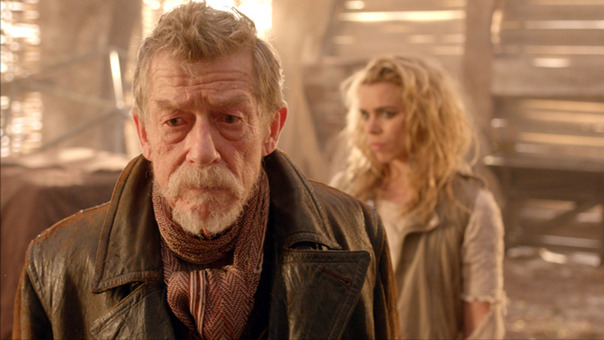 SPOILER ALERT: Come on. You know you squealed if you could manage to get any sound out at all. The Doctor Who 50th anniversary special hit the airwaves yesterday (November 23) on a wave of hype and well-beyond-NSA levels of secrecy. But it managed to amaze, surprise, and delight in that are rare in our give-the-whole-megillah-away pop culture climate these days. On a level of craft, the already immaculate show stepped it up so much, we were angling on Twitter for it to be Oscar-nominated for its vivid cinematography. (No, not Emmy. Oscar! Those how-cool-would-that-look-in-3D battle scenes, broad landscapes, and colorful flashbacks of frolicking young Gallifreyans were cinematic.) And how in sync were David Tennant and Matt Smith as Doctor, with John Hurt as straight man? Book them a Brit buddy comedy right this minute!
And then there was the moments that made even a reserved British audience here at the Doctor Who convention cheer. Peter Capaldi made an arresting first appearance as a Time Lord, recognizable only in extreme close-up on his chilling, almost sinister eyes. (The darkness and oncoming storm are truly upon us.) And of course, we had a brilliant sight of Tom Baker, unscarfed and a bit grayer but no less Fourth Doctoral, in a quiet moment of mutual respect with Matt Smith.
And yes, there are tantalizing questions about canon (Hurt is shown as fully one of the Doctors) and where the show will take us next with the tragedy of the Time War no longer hanging over the Doctor's head. But to really get the full impact of the show, you must see it in motion, and we took to the Doctor Who Tumblr to gather some of our favorite bits.
1.
2.
3.
4.
5.
6.
7. Oh and so much of this. Holy GHERKINS!
8.
9.
10.
See more:
'Doctor Who' Recap: "The Day of the Doctor"
Read More
Filed Under: