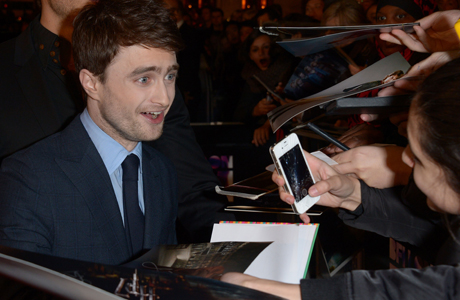 A typical 24-year-old probably couldn't go a day without Facebook or Twitter but Daniel Radcliffe, as we know, isn't your typical 20-something.
Radcliffe who entered the spotlight as a child actor, portraying the world-renowned Harry Potter in the film adaptations of J.K. Rowling's beloved stories, takes precautions to protect his privacy.
Radcliffe talked to the U.K.'s Sky News saying, "There's certain things you can do to make it a lot easier on yourself."
He points out that some celebrities may use social media but then flip a switch and complain that they can't be left alone saying, "I don't have Twitter and I don't have Facebook, and I think that makes things a lot easier because if you go on Twitter and tell everybody what you're doing moment to moment and then claim you want a private life, then no one is going to take that request seriously."
He takes it a step further pointing out that he doesn't go to film premieres or other events, unless it pertains to his work, because it's purposefully putting himself in the limelight.
There are plenty of actors who may not agree and just enjoy a good party or want to go out and show support for a fellow actor's project. In general, celebrity or not, people shouldn't have to stay home just to avoid others or a reaction, but it appears Radcliffe's point is … "Then don't whinge about it afterward."
Do you think celebrities should stay off social media for privacy reasons?
See More:
Edgar Wright Posts "Embarrassing" Photos with Every 100k Twitter Followers
What Can We Learn from Tom Hiddleston's Stance on Social Media?
#SaveTheDay – The Doctor Has Changed His Mind About Social Media
Read More
Filed Under: