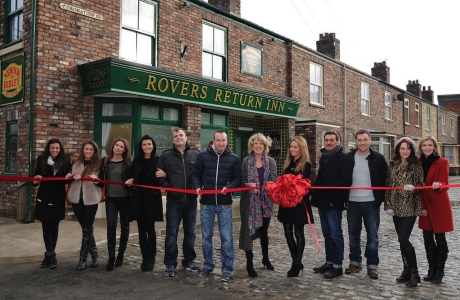 It may be the longest-running soap opera in the world, but even ITV's Coronation Street can't halt the march of progress. The show, which has been running since 1960 and has broadcast over 8,000 episodes, has been filmed at the Granada Studios complex in Manchester, England for the last fifty-three years — but now, with the closure of that facility, it's moving to a new purpose-built set at the MediaCity complex a short hop across the city.
The very first Coronation Street studio was fully indoors — even the exterior of the houses! — and stayed that way until 1968, when a replica outdoor set was constructed, albeit still with fake wooden house fronts. It wasn't until 1982 that the now famous, full-size external street set was built, and opened by Queen Elizabeth II, on the Granada backlot. While undergoing many subtle changes in the years since, the set has been in active use for just over thirty years, and was also the focal point of Granada Studios' use as a popular tourist destination.
As the MediaCity site — which is also now home to much of the BBC's broadcast operations — offers much more space in which to work, the Corrie producers have taken the opportunity to expand into a slightly roomier set, while of course taking pains to ensure that "The Street" still looks recognizable to the show's millions of loyal fans. For the first time, the show's interior scenes will actually be filmed within the houses, rather than on a separate studio set; and the next street behind, previously only seen in the form of a matte or CGI backdrop, now physically exists. And in perhaps the most drastic change, the widened street can now accommodate more than one car at the same time. Heady days indeed!
The new set has taken almost three years to build, and was unveiled today by assorted members of the show's cast. Episodes will start to be recorded there in early 2014, for broadcast later in the year.
See more:
What Are Brits Watching?: 'Coronation Street'
British Soap 'Coronation Street' Available in the U.S. via Hulu
https://www.bbcamerica.com/anglophenia/2013/10/10-tv-shows-that-explain-british-culture/
Read More
Filed Under: