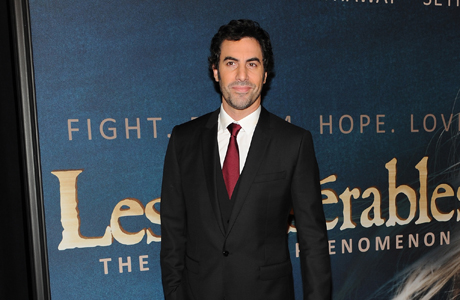 At one point, comedic-actor Sacha Baron Cohen was banned from high profile events because of his brash antics and pranks. But, this time around, he is an honoree at the Britannia Awards, taking place on Saturday, November 9 (airing on BBC AMERICA on Sunday, November 10 at 9/8c). We'll be interested to hear Cohen's speech when he accepts the Charlie Chaplin Britannia Award for Excellence in Comedy this coming weekend.
Let's take a peek at five of his films leading up to this honor:
1. Les Misérables
Cohen and Helena Bonham Carter portray the corrupt innkeepers, Thénardier and Madame Thénardier, in Tom Hooper's feature adaptation of the famous French musical, based on Victor Hugo's 19th century novel. The Thénardiers find themselves as guardians to a young child named Cosette (Isabelle Allen), who they do not want but are willing to make a dime off of.
Watch Les Misérables on Amazon Instant.
2. Hugo
Martin Scorceses directed Cohen in this magical film about an orphan (Asa Butterfield) living in a train station, set in 1930s Paris. Cohen plays a train conductor who knows the young boy is up to something but he can't quite put his finger on it. 

3. Talladega Nights: The Ballad of Ricky Bobby
Well, at least he's consistent … for the third time (at least in this post), Cohen is playing a French villain. He takes on the role of French Formula One driver Jean Girard who gives hotshot American NASCAR driver Ricky Bobby (Will Ferrell) a run for his money, on and off the racecourse.
Watch Talladega Nights on Netflix.
4. The Dictator
Cohen takes on the role of an oppressive and tyrannical dictator named Admiral General Haffaz Aladeen, who comes to the U.S. for a visit. He is oblivious to the fact that everyone despises him. Ben Kingsley stars as an equally bad guy, his uncle, who has him kidnapped and replaced with an identical double.
Watch The Dictator on Netflix.
5. Brüno
Brüno is an Australian fashionista who travels to the U.S. to find fame and fortune. He definitely makes some mistakes on the way, only looking out for himself. Cohen interacted with everyday people during the filming process, who made it into the film, but they weren't in on the fact that he was playing a character.
Watch Brüno on Amazon Instant. 
What's on your playlist? 
See More: 
Sacha Baron Cohen: Honoree at Britannia Awards
First Look: 'Les Misérables' Poster with Sacha Baron Cohen and Helena Bonham Carter
WATCH: Martin Freeman Beatboxing with Sacha Baron Cohen
Read More
Filed Under: