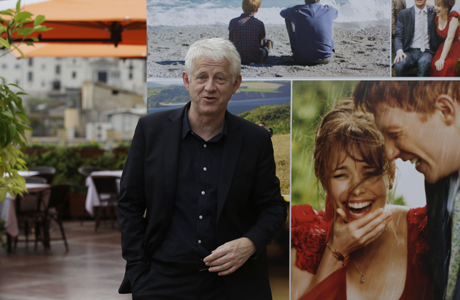 Writer-director Richard Curtis' latest film, About Time (Nov. 1), is a unique combination of comedy, romance and science fiction. Londoner Tim Lake (Domhnall Gleeson) learns on his 21st birthday, from his father (Bill Nighy), that he has the ability to travel through time and relive any moment.
While Curtis is known for his romantic comedy writing (Notting Hill), this isn't his first step into the world of science fiction having written the tenth episode for Season Five of Doctor Who, entitled "Vincent and the Doctor" (available on Netflix).
Here are some of Curtis' earlier romantic comedies available online, you can binge on these before or after making the trip to the cinema to see About Time:
1. Bridget Jones's Diary
Oh, Bridget. She's a 30-something singleton (Renée Zellweger) who is neurotic and unlucky in love but surrounded by her friends and romantic interest (Colin Firth) who tell her, "We love you just the way you are."
Watch Bridget Jones's Diary on iTunes.
2. Pirate Radio
A group (Bill Nighy, Nick Frost, Tom Sturridge, Philip Seymour Hoffman) sets out to sea to air rock-n-roll over the musically rigid U.K. airwaves, in the 1960s.

Watch Pirate Radio on Amazon.com Instant.
3. Love Actually
This story takes place around Christmas time but really … it's not a Christmas movie. We follow ten separate stories, illustrating the complexities (and sometimes simplicities) of falling in love. This ensemble cast includes familiar faces like Hugh Grant, Colin Firth, Emma Thompson, Alan Rickman, Keira Knightley and Andrew Lincoln.

Watch Love Actually on Netflix or Amazon Instant.
4. Four Weddings and a Funeral
Weddings and funerals bring people together. Londoner Charles (Hugh Grant) has a tight circle of friends, who he catches up with at mutual friends' weddings, but he keeps running into an American by the name of Charlie (Andie MacDowell), who he finds himself intrigued by.

Watch Four Weddings and a Funeral on Amazon Instant.
5. Notting Hill
This is your typical boy-meets-girl story except the boy (Hugh Grant) works in a London bookshop and the girl (Julia Roberts) is a famous American actress.

Watch Notting Hill on Amazon Instant.
What's on your playlist?
See More:
Writer-Director Richard Curtis Debates Retiring from Directing
New Romantic Comedy 'About Time' Offers Glimpse of London Sights
Damian Lewis In 'The Vicar Of Dibley'? It Must Be Comic Relief
Read More
Filed Under: