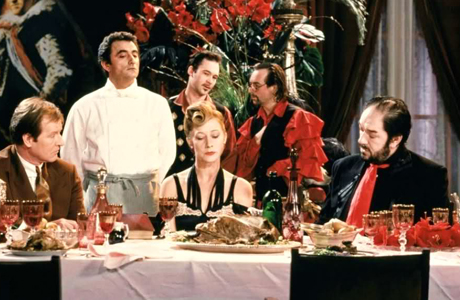 With Thanksgiving just around the corner, what do you think of? Food! Well, of course, giving thanks … but then, food! Food brings people together as seen in these five foodie films available online:
1. The Cook, the Thief, His Wife, and Her Lover
Georgina Spica's (Helen Mirren) thug husband Albert (Michael Gambon) takes over a French restaurant. He and his friends spill into the restaurant each night, scaring away patrons; they don't seem to notice or care. Albert's lack of awareness gives Georgina the freedom to indulge in a side dish, a bookish customer (Alan Howard) who frequents the restaurant.
Watch The Cook, The Thief, His Wife, and Her Lover on Netflix.
2. The Trip
Steve Coogan (Alan Partridge) and Rob Brydon (yep, the comedian who just hosted the 2013 Britannia Awards) play themselves, sort of, as they go on a tour of restaurants in the north of England. The fictionalized storyline starts off with Coogan trying to impress his girlfriend by setting up a restaurant tour for a newspaper assignment; at the last minute his girlfriend bails and he's stuck inviting Brydon.
3. Love's Kitchen
Recently widowed Chef Rob Haley (Dougray Scott) leaves the hustle and bustle of London behind, moving to the countryside with his young daughter. Hayley throws all of his energy into turning a modest pub into a fine-dining experience. Wait, where does the love part come in? A big time American food critic (Claire Forlani) just happens to be visiting the small village. Of course she is.
Watch Love's Kitchen on Netflix.
4. The Baker
Milo Shakespeare (Damian Lewis) has become disenchanted with this job as a professional hitman. His colleague Leo (Michael Gambon) sends him off to his place in the country to take a breather. When Milo arrives, he's mistaken for a baker and goes with it. He has a short window before the neighbors (Kate Ashfield, Rob Brydon) start to suspect something about "the baker who doesn't bake."
5. Nina's Heavenly Delights
Nina Shah (Shelley Conn) returns to her Glasgow village after living in the big, bad, city of London. When she returns home she learns her recently deceased father's curry restaurant is at risk. She "cooks up a plan" to save the restaurant and stirs up a bit of trouble with the competition (but in a fun way).

Watch Nina's Heavenly Delights on Netflix. 
What's on your playlist? 
See More:
What Are Brits Watching: 'Food Unwrapped'
Five Myths About British Food
Food Memories: What Do You Miss From Britain?
Read More
Filed Under: