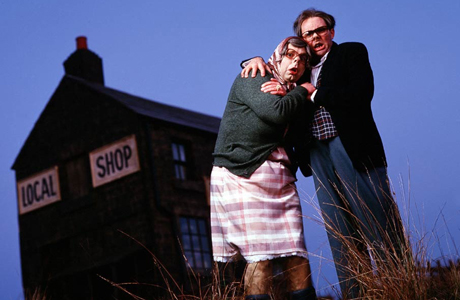 Did you fight the crowds and make it out on the craziest shopping day of the year? If you opted to stay home, we don't blame you. Either way, in observance of Black Friday, here are five British dark comedies you can watch streaming online:
1. The League of Gentlemen
While the TV series features dozens of characters, they are all played by four actors—Jeremy Dyson, Mark Gatiss, Steve Pemberton and Reece Shearsmith—who make up The League of Gentlemen. The sketch-based series is set in Northern England where the townsfolk embrace their local community and would like to keep outsiders … outside.
Watch The League of Gentlemen, Season 1, on Amazon Instant.
2. Psychoville
What do you get when a one-handed clown, a birthing nurse, a dwarf, an obsessive and an elderly man all walk into a room? It sounds like the build up to a bad joke but it's not, it's a wonderfully clever, while creepy, TV series from two members of The League of Gentleman (Reece Shearsmith and Steve Pemberton). 


Watch Psychoville on Hulu Plus.
3. In Bruges
British filmmaker Martin McDonagh teams up with Colin Farrell, who plays a hitman riddled with guilt after an assignment goes wrong. Farrell's assassin character hides out in Bruges, Belgium, awaiting directions. Farrell is joined by Brendan Gleeson and Ciarán Hinds.
4. Seven Psychopaths
McDonagh signed on Farrell for a second time, with this story that follows an aspiring screenwriter (Farrell) in L.A. who finds himself in hot water when his mates kidnap a mobster's dog with the plan of returning him for a reward. But, their plan goes awry. The film is rounded out with Christopher Walken, Sam Rockwell and Woody Harrelson.
Watch Seven Psychopaths on Amazon Instant.
5. Blithe Spirit
A happily married couple (Rex Harrison and Constance Cummings), living in the English countryside, sits in on a séance and the husband finds himself with two wives, one more in spirit.

Watch Blithe Spirit on Amazon Instant.
What's on your playlist? 
See More:
"Americans Perfectly Capable of Understanding Irony," Says British Director
The Moaning of Live: Monty Python's Return in Full
Two Brits Debate: Are Americans Sarcasm-Literate?
Read More
Filed Under: