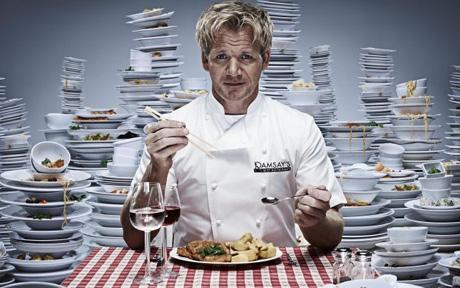 With the holiday season coming up, you may find yourself in the kitchen a little more than usual. These British cooking shows might get you in the culinary mood, or give you a reason to procrastinate, but no matter what … don't pull an amateur move and watch on an empty stomach.
Here are five British foodie TV shows available online:
1. Ramsay's Kitchen Nightmares U.K. 
Famed chef Gordon Ramsay takes over failing restaurants and attempts to help the owner and staff turn things around.
Watch the U.K. version of Ramsay's Kitchen Nightmares on Netflix.
2. Ramsay's Best Restaurants
On the other hand, Ramsay showcases the best restaurants in the U.K. … with some friendly, yet fiery, competition.


Watch Ramsay's Best Restaurants on Netflix.

3. Jamie's Meals in Minutes
Do you find yourself rushing about and limited on time, possibly chef Jamie Oliver's quick dishes can act as a solution.

Watch Jamie's Meals in Minutes on iTunes.
4. No Kitchen Required
Three world-class chefs leave the comfort of their kitchens, battle the elements of the outdoors, hunt for their own ingredients, while cooking in primitive conditions. The judges are the native tribal hosts.

Watch No Kitchen Required on Amazon instant.
5. Big Cook, Little Cook
This cooking program takes lil' ones on a cooking adventure, teaching them the tricks of the trade at an early age.
Watch Big Book, Little Cook on Amazon Instant.
What's on your playlist? 
See More:
What Are Brits Watching: 'Food Unwrapped'
Five Myths About British Food
Food Memories: What Do You Miss From Britain?
Read More
Filed Under: