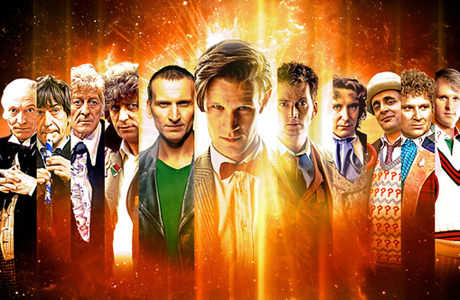 Eleven Doctors, more than 30 companions, infinite miles traveled — there's a lot of space and time to cover when it comes to 50 years of Doctor Who. The British sci-fi institution has influenced other franchises, spawned a gazillion tributes and spoofs, and launched a mighty, devoted fanbase.
How do you dare to create definitive lists of the best of Who?
We here at Anglophenia love a good listicle as much as anyone else, and we've invited a few good Doctor Who fans to take part in a survey of the show's epic half-century run.
We've amassed an expert jury of dedicated Whovians—some who have watched the show for just a few years, others who have devoured episodes since long before current Doctor Matt Smith was born. Some are journalists who cover the show (nice work if you can get it, right?), while others have founded and presided over fan clubs. Some started with the "reboot" and worked their way back in an appropriately non-linear fashion, while others took a chronological path, beginning with William Hartnell's First Doctor.
But they are all united by a fervent, deep appreciation of the show, in both its classic and modern forms. And we hope that these lists encourage fans to sample eras of the shows that they may not know well.
We'll be rolling out our lists in the days leading up to the 50th, so be sure to check back here for updates. All first place votes were given five points, second place votes four points, third place votes three points, fourth place votes two points, and fifth place votes one point.
11 Greatest Monsters and Villains
10 Greatest Stories and Episodes
10 Greatest Companions
Top 5 Doctors
20 Reasons Why Doctor Who Endures
Below you can peruse the ballots of our jurors, with ballots updating more of our lists are published.
Kyle Anderson
Richard Armstrong
Christopher Bahn
Greg Bakun
Arnold Blumberg
Jack Bowman
David Brennan
Sebastian Brook
Christopher Cebula
Aaron Cistrelli
Tim Clodfelter
Laura Byrne Cristiano
James Dailey
Earl Dittman
Shelley Duncan
Gordon Dymowski
Erika Ensign
Warren Frey
Haley Grogan
Paul Hammans
Craig Hurle
Morgan Jeffery
Tony Jordan
Thayer Juergens
Paula Luther
Nick Lyons
Scott MacDonald
Heather Maloney
Fraser McAlpine
Johnstone McGuckian
Chris McIntyre
Nicole McLernon
Keith Miller
Charles Mohapel
Paul Murphy
Jessica Naki
Paddy O'Meara
Laura Palmer
Seb Patrick
Amber Phelps
Ken Plume
Juan Sam
Steven Schapansky
Kelly Schwarze
Cavan Scott
Paul Semel
Jill Sexton
Michael Stailey
Lauren Taylor
Melita Washington
Dan Williams
Alex Zalben
See more:
'Doctor Who' And The Eleven Archaic Wardrobe Choices
The Best Eleven Items In The Doctor's Wardrobe
'Doctor Who': A Companion To The Eleventh Doctor
Read More
Filed Under: