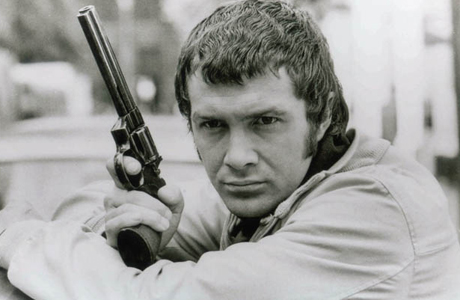 A beloved British TV star, Lewis Collins, has died at the age of 67.
Collins, who played tough guy crime fighter William Bodie on The Professionals (1977-83), which aired on ITV, died on Nov. 27 in Los Angeles after being ill with cancer since 2008.
Following the success of the series, he auditioned to portray James Bond as a possible successor to Roger Moore in the Agent 007 movie series. He envisioned the role as more of a tough guy than a dapper smoothie and would say in interviews in later years that he was quickly rejected for the part by producer Albert Broccoli for being "too aggressive."
Collins wasn't the first choice for his signature role on The Professionals. The part was originally played by Anthony Andrews (Brideshead Revisited), who departed after only a few days of filming because the producers felt that Andrews' chemistry with costar Martin Shaw, who played Ray Doyle, wasn't working.
According to an obituary for Collins in The Telegraph, series creator Brian Clemens, who had been the principal scriptwriter on The Avengers, then turned to Collins, who he remembered as having a prickly chemistry with Shaw when the two had appeared in an episode of The New Avengers. (To read additional obituaries in the British press, click here, here and here.)
In The Professionals, Collins and Shaw played secret agents working for C15, a fictional covert government agency that battled bad guys galore. In between tracking down and taking out nefarious villains, the duo flirted with and aided an ever changing array of sexy lovelies. Also on hand as the pair's nominal boss was George Crowley, a character played by Scottish actor Gordon Jackson (butler Angus Hudson in the original Upstairs Downstairs).
Both Collins and Shaw did their own stunts in the action-filled show, which came easily to Collins, an accomplished marksman and martial arts practitioner in real life.
Here's the opening title sequence for the show:
Collins, who was born near Birkenhead in Cheshire, quit school at age 15 to work as a hairdresser and rock musician before becoming an actor. One of his early bands played double bills with The Beatles during the latter group's early days and he was once asked to audition–he didn't bother doing it!–to replace Pete Best as the Beatles' drummer (the job went to Ringo Starr).
He followed The Professionals with roles in movies such as Who Dares Win (1982) and the British TV series Cluedo (1991-92) but was never able again to find a role that matched his popularity as Bodie. He made his final on-screen appearance as an actor with a guest shot in the British police series, The Bill, in 2002.
For the past two decades, Collins had been living in Los Angeles with his wife, Michelle Larrett, a teacher, and their three sons. During that period, he studied to be a writer and director at UCLA.
Among the many tributes coming in as news of Collins' death spread was a tweet from former Doctor Who star Colin Baker, who wrote, "Sad to hear that Lewis Collins has  died. He was a year below me at drama school. Had style!"
Here's Collins, at his most charming, talking about working on The Professionals while appearing on a British chat show in 1997:
Were you a Lewis Collins fan?
Read More
Filed Under: