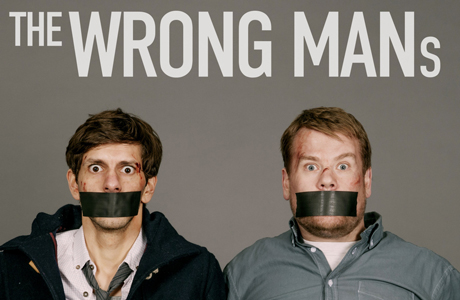 We had the pleasure to meet up with The Wrong Mans co-creator Mathew Baynton and director Jim Field Smith. The Wrong Mans—a fusion of comedy, action and thriller—revolves around two underachievers, Sam and Phil, played by Baynton and co-creator James Corden. The bumbling office mates find themselves wrapped up in a kidnapping after Sam witnesses a fatal car crash and unassumingly answers a ringing phone lost at the scene. The guys really don't have much time to think about what to do and find themselves making instinctual, gut decisions.
The Wrong Mans premieres, November 11, on Hulu.com. You can watch the six-part series roll out on a weekly basis on Hulu.com; or log onto Hulu.com Plus to watch them all in one sitting (free one-week trial here).
Here's 10 reasons why The Wrong Mans is so right:
1. The Wrong Mans airs in the U.S.
Jim Field Smith: "Hulu was someone who came in really early and was really passionate about the show, as passionate about the show as we were, and as passionate about the show as the BBC were. That's kind of infectious when you meet people who have read the scripts, really understand it and have some smart thoughts about what to do with it. They were natural partners for us."
2. Phil and Sam are about 50 percent character, 50 percent fact.
Mathew Baynton: "The characters came from us. It's not like we created the characters and then decided who would play who. The first idea for the show was the car crash and the phone call, that was the genesis and the rest of the idea grew from there. We never had a conversation about who would play which character, to be honest. It was always clear to us that Phil would be my character and James would play the over-enthusiastic guy who wants in on it."
3. It makes you think.
MB: "We were really keen for it to feel like we weren't writing clowns and so the comedy wasn't because they were ridiculous characters. We wanted, and I hope we achieved this, that the audience would really ask themselves, 'What would I do in this circumstance?' They would probably come to similar conclusions like Sam and Phil did."
4. You're left wanting more.
MB: "We wanted people to get to the end of it and think, "Ahhh, I have to watch the next one.' Hulu and Hulu Plus are the perfect platform for that. If you want, you can sit down and watch all six episodes in three hours. And nothing would make us happier."
5. Early feedback.
MB: "We've had lots of lovely feedback on Twitter and Chris Chibnall, who created Broadchurch, is someone who came out on Twitter saying what a fan of The Wrong Mans he is. I can't tell you how gratifying it is, when people who have created something really fantastic, talk about your work."
6. It's got it all.
JFS: "We tried to create a show that was funny but also worked in spite of it being a comedy. So, we wanted a thriller, the action and the plot to work, regardless to the fact that it was funny. That's the toughest bit. Comedy is hard but that was particularly hard, in half hour slots. There's a reason there aren't many plot-driven shows. We wanted it to function as a thriller, it just so happens there's these two idiots in the middle of it."
7. Mathew got in shape for the action scenes.
MB: "I took up jogging."
JFS: "How many times did you go?"
MB: "Oh! Several."
Me: "Several jogs?"
MB: "Several jogs for this role."
Me: "I run when it rains."
MB: "I bought running shoes."
Me: "A for effort."
8. The writing process is very involved.
MB: "I do the typing because James can't work a computer. When James and I write, we write together in a room. Never send each other stuff. It works very much like improvising in character and adlibbing as other people. It's not that structured, you go on a riff, and then it's like, 'What was that you said? You said something really funny?' and you pick out the lines that stuck in your brain. You can then sit and make it more structured. Comedy often is not written by one person, but duos or groups, being funny is an instinct to amuse another person. You want to make someone laugh. If you're just sat in front of a laptop, there's no one to make laugh basically. There are great writers who can do that but for me, the instinct to be funny as a performer, is the same instinct to be funny as a writer. So, when I'm in a room with James, I'm just trying to make him laugh. That kind of motors it and hopefully makes an audience laugh as well."
9. The audience is in on it.
MB: "When we wrote the pilot, what we felt was really important in that first episode was not giving the audience too much information, so that voice on the phone is all you have to go on. So you're there, with Sam, in his head going, "Who's that voice? Who's the woman who's been kidnapped?' You're lost in that sea of questions and you're with these two ordinary guys trying to figure out what's going on. The audience is then aware that these two guys have fallen into something dangerous and they're out of their depth. We pull away, and it's usually just one scene, that we allow ourselves to leave Sam and Phil, and it's to allow the audience to see the speeding train that's heading towards them (metaphorically). You just get a glimpse of the danger coming their way. It gets so much bigger than what they thought it would."
10. It's real.
MB: "There's a shot that typifies the realness of it. They jump from a great height. That's the trope, you see that in action movies, and action heroes do it, and then they roll forward, and they carry on sprinting. It would hurt. Right? We just showed the bit that you would usually not show, you would usually cut from, which is two guys in a lot of pain, for about a minute. It's not a spoof. It's, 'What would be the real consequence of that, if you're untrained, an everyday guy and have been forced into a situation to perform heroically.' Which by the way, the real heroes in the world are, just people who happen to be in a place when something awful happens."
You can get a good feel of what to expect with the trailer below:
Can two wrong mans make a right? 
See More:
WATCH: James Corden and Mathew Baynton Discuss 'The Wrong Mans'
Interview with Hulu's 'The Wrong Mans' Co-creator Mathew Baynton
Tony Winner James Corden to Star in Hulu Comedy, 'The Wrong Mans'
Read More
Filed Under: