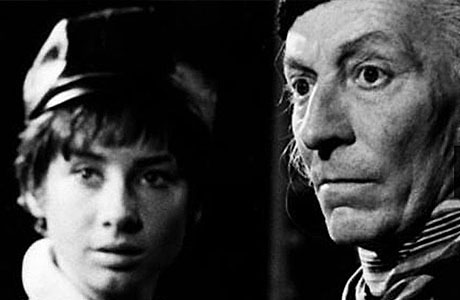 For a TV show that has lasted for 50 years and has changed so much in that time, it's remarkable to note just how many of the key elements of Doctor Who were in place from the very beginning. Once past the whooshy opening credits and startling theme tune, there's a mercurial old man piloting a time and space machine that looks like a police box from the outside and has a hexagonal mushroom for a console, and among his companions there are people from earth, and at least one young lady.
Credit for these innovations should go to the many people who did all the leg work before that first episode even went to air. A selected ten of whom are presented below, as a kind of potted history of events that, 50 years ago today, pushed and pulled the Whoniverse into gasping breath.
So let's start with the germ of an idea, and the man with means to make it happen:
Eric Maschwitz
In March 1962, Eric was the Assistant and Adviser to the Controller of Programmes at BBC Television, and he wanted to know how feasible it was for the BBC to create a new science fiction series. A study was prepared by Alice Frick and Donald Bull, and was so warmly received, a second study was commissioned, asking for specific format ideas. Alice worked with John Braybon on this, and they concluded that time travel would be a good idea to explore.
Sydney Newman
That December, Sydney was appointed as the new Head of Drama for BBC Television, and he was already a sci-fi buff. Having identified a gap in the Saturday early evening schedule between the sports roundup Grandstand and Juke Box Jury, he resolved to fill it with something that would play to his tastes without alienating the children who would normally be watching at this time, and was pleased to read Alice and John's study. They were asked to brainstorm ideas with the Head of Script Development Donald Wilson, and the writer C. E. 'Bunny' Webber.
C.E. Webber
It was during these discussions that the team hit upon the format of the show. Sydney had had this idea for a time machine that was larger on the inside, and an enigmatic character that everyone called "Doctor." C.E. wrote their ideas up as background notes, including character summaries for 'Bridget' (the 15-year-old template for Susan Foreman), and schoolteachers 'Lola' and 'Cliff' (who would become Barbara Wright and Ian Chesterton). The Doctor is referred to as 'Doctor Who,' as Sydney had already earmarked this as the title of the show.
Verity Lambert
Brought in to produce the show, based on this brief, Verity initially met with some opposition from Donald, who felt she was too inexperienced to pull together such a complex brief. She later proved him wrong by choosing "The Daleks" as the second adventure for the Doctor, against his wishes. If any one decision could be said to be solely responsible for the fact that Doctor Who still exists now, it is this one. In the meantime, Mervyn Pinfield was brought in as associate producer, to help out, and C.E.'s first draft script was handed to writer Anthony Coburn to flesh out.
Anthony Coburn
It's around this point that Cliff, Bridget and Lola become Ian, Susan and Barbara, and the TARDIS acquires its characteristic outer shape, thanks to the location in which it is first found: a junk yard. This was Antony's idea, one that would ensure the TARDIS would become a sci-fi icon thanks to the subsequent decision that it would remain a police box, rather than change every week, as originally planned.
Waris Hussein
The history of Doctor Who is one of sceptics and true believers. Verity Lambert was a true believer, and as director of the first story, director Waris was just one of the sceptics, openly worried about how this new show would affect his career ("a graduate from Cambridge with honours and you're directing this piece about cavemen in skins. I thought, 'Where have I landed up in my life?'"). He wasn't alone in this, even William Hartnell was said to be concerned that this unconventional endeavor would turn out to be a disaster. Thankfully, Terry Nation was on hand with an interesting script about warring alien races.
Terry Nation
Having already turned down the offer of working on this new show when it was still in embryonic form, Terry changed his mind in  good time to turn in a script that would turn out to be Doctor's second adventure, to a planet called Skaro. There he would meet a race of genetically-engineered rotters called the Daleks, and their human-ish enemies, the Thals.
Raymond Cusick
Ray was the designer who thought it might work if the Daleks could glide footlessly, like the cruet set on the dinner table in front of him. And it is Ray's design that all Daleks are built on to this day. An immeasurable contribution, and that's not even counting Ray's set designs across the first three years of Doctor Who's life.
Delia Derbyshire
http://www.youtube.com/watch?v=nZ3yNDfV8Xo
Ron Grainer had written this shuffling, swooping theme music, but it was Delia, working within the experimental confines of the BBC Radiophonic Workshop, that recorded it. She used oscillators, recorded sounds, special effects and all manner of laborious sonic wizardry to create a landmark in electronic music. So much so that when Ron heard the results, he marvelled "Did I write that?" to which Delia replied that yes, he mostly had. When played against the trippy title sequence by Bernard Lodge and Norman Taylor, a clear and dramatic break had been established between those sports and the pop music shows on either side.
And of course…
William Hartnell
Although he was hired after Verity Lambert saw this sensitive performance in This Sporting Life, William's reputation as an actor was based on a series of roles in which he was either a hard man or a bellowing drill sergeant. He was third choice for the role, after Hugh David and Geoffrey Baylden both turned it down, and yet it's hard to imagine any actor bettering his flinty posturing and hawkish demeanor. It's all in his eyes: somewhere under that frail exterior, the hard man of old glares out.
See more:
The First TARDIS, Recreated
Daleks Invade London Again, For 'An Adventure In Space And Time'
Photos Released for 'An Adventure in Space and Time,' BBC AMERICA's Drama About 'Doctor Who'
Read More
Filed Under: